The Northern Rivers Touring Motorcycle Guide is for all motorcycle enthusiasts with 18 rides throughout the region that all begin and end in Ballina.
1. BALLINA TO CANUNGRA ROUND TRIP
The best ride in the region - 308kms
This is one of the best rides in the region! The road will take riders through Byron bay, Mooball, Murwillumbah, and Chillingham to the picturesque township of Canungra. From here the road leads back to Nerang where the ride will continue down the Pacific Highway and back to Ballina.
2. BALLINA TO EVANS HEAD ROUND TRIP
A south western ride inland - 146kms
This is a scenic south-western ride inland and a great one to take mid-morning to lunch. This ride features great back road routes of the area, showcasing some of the smaller villages in the area.
3. BALLINA TO UKI ROUND TRIP
Hinterland track - 197kms
Once you leave the highway on the road to Mooball, you will come across a number of quality galleries, pubs and cafes along the way. This is motorbike heaven, with fantastic back roads through spectacular rainforest scenery and smaller villages.
4. BALLINA TO KINGSCLIFF ROUND TRIP
Coastal and rural loop - 200kms
This is a great coastal ride to take a passenger. Incredible coastal views, pubs, cafes and good roads. Then ride over to Murwillumbah and Uki for a change of scenery over winding bush roads through rolling hills.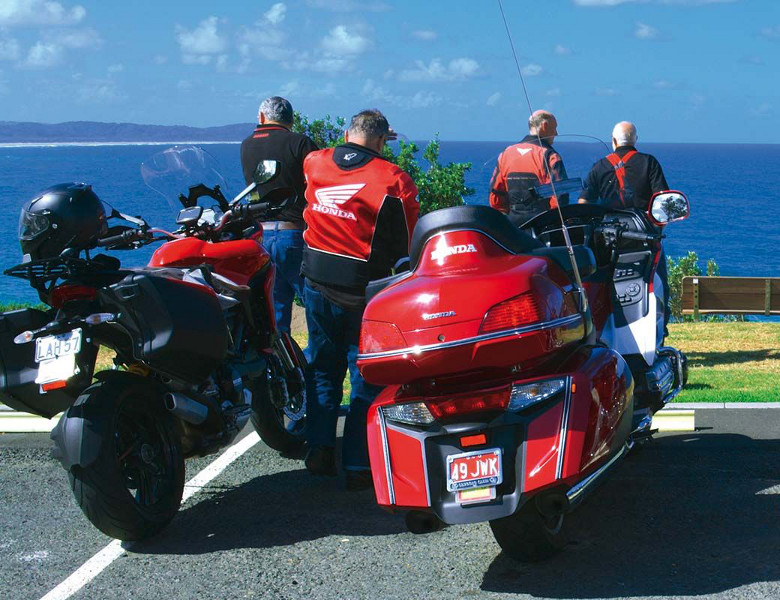 5. BALLINA TO COPMANHURST ROUND TRIP
Ferry rides - 368kms
This scenic ride follows the Clarence River where you can stop and explore smaller towns enroute. Take the Ulmarra Ferry and head towards Grafton. North of Grafton head for Copmanhurst then back through Lawrence to ride the Blue Point Ferry, crossing the Clarence River again. Travel north back through Maclean and Yamba.
6. BALLINA TO YAMBA ROUND TRIP
A ride to the Clarence - 240km
A great mid-morning or lunch ride. Explore some of the smaller coastal villages located at the mouth of the Clarence. Catch the passenger ferry from either Iluka or Yamba and cross the Clarence for a perfect round trip.
7. BALLINA TO RATHDOWNEY ROUND TRIP
Twists and turns - 319kms
This ride is built for bike touring; twisty, turning, up and down. Take the Lions Road from Kyogle to Rathdowney. The Mt Lindesay granite outcrop will emerge in all its majesty as you ride on the Mt Lindesay Highway to Woodenbong.
8. BALLINA TO GLEN INNES ROUND TRIP
Highway riding at its best - 575kms
This is highway riding at its best! An easy ride to South Grafton, followed by a ride up the Gwydir Highway to Glen Innes. From here take the New England Highway to Tenterfield, and then back down the meandering Bruxner Highway through Casino and Lismore and an easy ride back to Ballina. This route travels through spectacular scenery and the highways let you take it all in.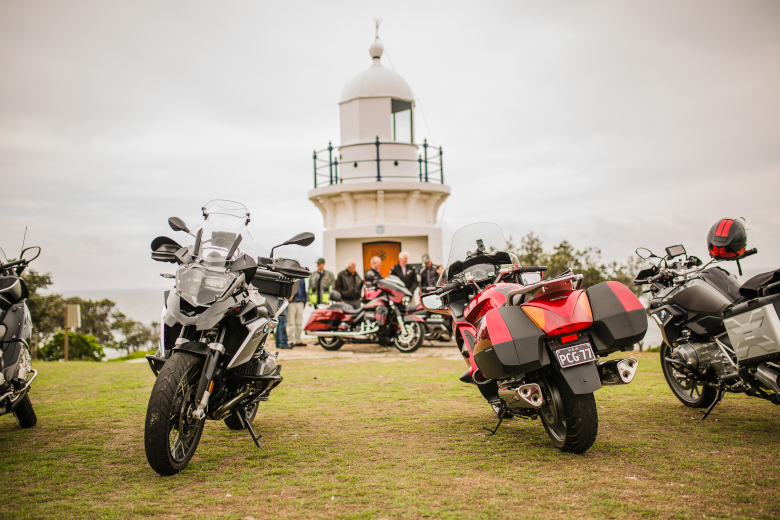 9. BALLINA TO TENTERFIELD ROUND TRIP
Tenterfield saddler - 380kms
This route takes you inland right through to Tenterfield, with its bends and twists its guaranteed to satisfy the most seasoned of riders. Explore the villages on the way and seek out the bike display at the pub in Drake. Take in the views of the spectacular coastal escarpment as you ride back into Ballina in time for dinner.
10. BALLINA TO WOODENBONG ROUND TRIP
Take the scenic back roads - 473kms
This route takes riders up to the New South Wales / Queensland border along scenic rural roads through townships with rural character and country charm.
11. BALLINA TO WHIPORIE ROUND TRIP
Charming villages - 299kms
Several route options have been mapped out. Ride along the banks of the Richmond River then out to some back roads closer to Ballina. Take the shorter ride along some good gravel sections, via Woodburn, Coraki, Tucki Tucki back to Ballina, or continue through to Tullymorgan and Whiporie then along the Summerland Way via Casino back to Ballina.
12. BALLINA TO BRUNSWICK HEADS ROUND TRIP
Short and sweet - 92km
This is a great short ride. Head north on Tourist Drive 30 to Lennox Head, Byron bay, then onto Brunswick Heads. Plenty of cafes, pubs, and live music on weekends. Explore the hidden gems of Billinudgel, Ocean Shores and Mullumbimby. Don't forget to drop into Bangalow on your way back to Ballina.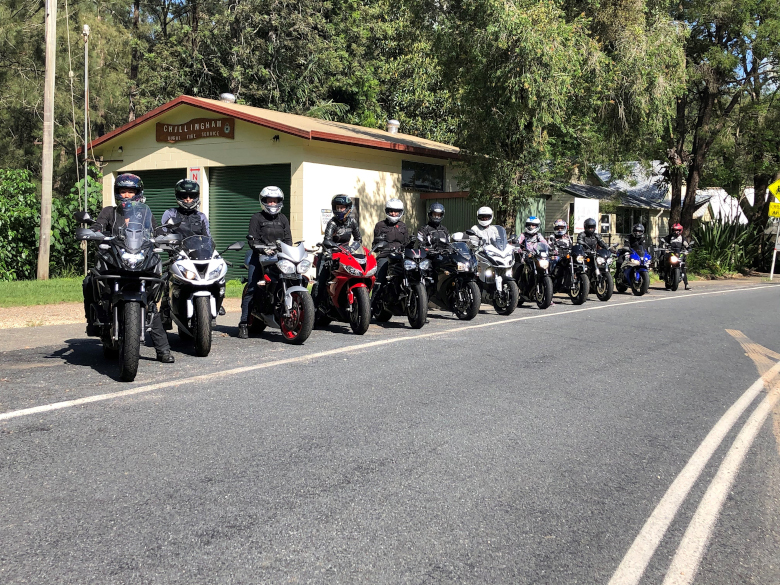 13. BALLINA TO CANUNGRA ROUND TRIP
Open spaces - 360kms
This is an extension of ride number 7. The roads from Canungra back through Rathdowney and Kyogle make some of the best biking rides in the district. This route has spectacular views, interesting stops and unique attractions along the way. See if you can spot the dinosaur in the paddock at the Natural Arch.
14. BALLINA TO BONALBO ROUND TRIP
Dotted with tourist spots - 315kms
This scenic laid-back ride takes in rural towns known for their flourishing beef and timber industries. On this ride you will find unique dining options, shops and galleries, plus a range of picnic areas throughout the picturesque national park.
15. BALLINA TO TENTERFIELD ROUND TRIP
Enduro Ride I - 535kms/545kms
This ride links the mountains to the sea and is fringed by wild rivers and breathtaking scenery. Take Old Glen Innes Road and follow the Boyd River to historic Buccarumbi and Dalmorton. Ride through a 20 metre hand-cut tunnel towards Newton Boyd and have a break at the Mann River Nature Reserve. You can head up to Tenterfield or return to Ballina back through Grafton via the Gwydir Highway. Leave early, this is a big ride with a good mix of tar and gravel.
16. BALLINA TO NIMBIN ROUND TRIP
Enduro Ride II - 224kms
This ride takes in the cultural heart of the region, Lismore. It is a mecca for artists, markets and galleries. Ride through the Border Ranges National Park. Give yourself plenty of time for sidetrips, waterfalls and lookouts via charming villages that offer an alternative way of life.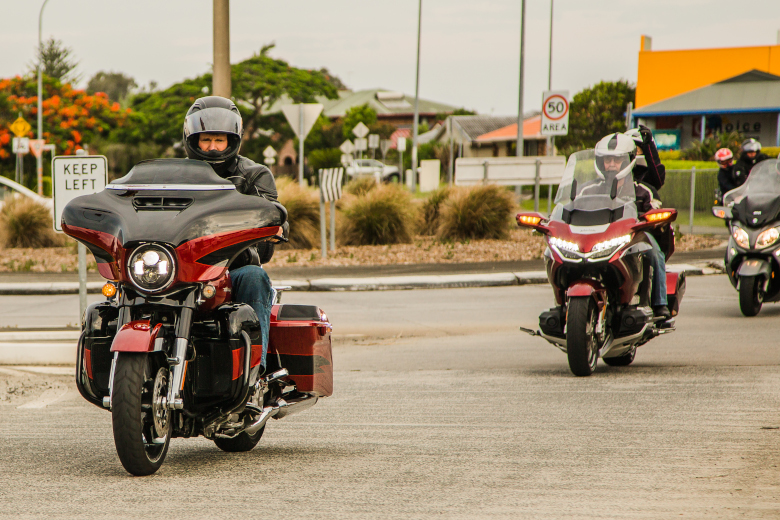 17. BALLINA TO TENTERFIELD ROUND TRIP
Enduro Ride III - 505kms
This is another great road bike ride on the Bruxner Highway to Tenterfield. This ride is best for enduros so if you return on the Bruxner you have the best of both worlds.


18. BALLINA-WARWICK-TENTERFIELD
Enduro Ride IV - A few variations
This is a variation on rides 15 and 17 but through the same type of great biking roads. Take your time exploring this country. The section from Woodenbong to Legume might slow you down a bit, and the enduro will round you up, but don't let that deter you. Test out the great gravel sections between Tenterfield and Bald Rock National Park. Here are a few route options:
a. Ballina, Warwick, Ballina - 446kms
b. Ballina, Legume, Bald Rock, Tenterfield, Ballina - 484kms
c. Ballina, Legume, Bald Rock, Stanthorpe, Tenterfield, Ballina - 560kms
d. Ballina, Warwick, Tenterfield, Ballina - 533kms