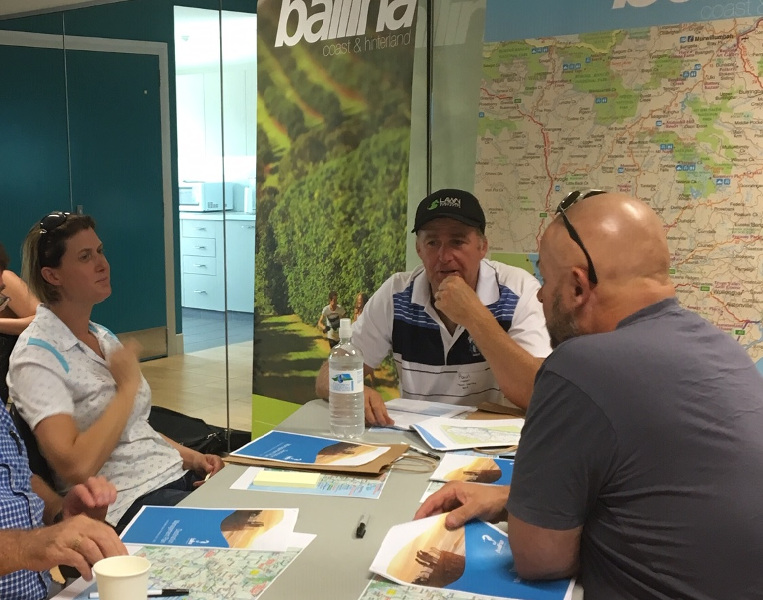 Thank you to the operators that recently attended the industry collaboration workshops. It was great to see so much enthusiasm, a willingness to share and work together.
For those that were unable to attend, the feedback from the workshops shows an overwhelming desire to engage in cross-selling opportunities.
A regional umbrella that positions the Northern Rivers was identified as the biggest opportunity to collectively invest to grow the local tourism economy!
The regional positioning does provide a bigger opportunity to capture the attention, influence a customer to come here and keep them in the region for longer. This is possible if we work together and therefore have more to offer. Given so many of your businesses are scattered across the region, this seems a logical and powerful way forward.
If we think about the 'Sunshine Coast' or 'Shoalhaven, South Coast' these are two regions that have managed to brand their destinations and work together as a whole. Everyone knows Noosa is on the Sunshine Coast! It hasn't deterred from the identity of Noosa, but strengthened the appeal of Noosa, given you can choose to say in quieter Peregian, have lunch in Noosa and drive to Eumundi to visit the markets! Everyone in this example is getting a piece of the pie, rather than a visitor staying, eating and playing in Byron Bay (which was a continual theme that emerged from both workshops).
Similarly with the Shoalhaven, you can stay in Gerringong, visit the beaches in Jervis Bay, go to the harbour side markets in Kiama, pick up fresh seafood from Shell Harbour, lunch in the Kangaroo Valley and do a foodie walking tour in Berry!
The Workshop - What you asked for!
- A Destination Guide/Holiday Planner/Visitor Guide that is motivational with trails/itineraries to showcase what's on offer and to help cross sell experiences (print and digital formats) – one motivation piece for the destination (currently there are many, including several that promote Byron Bay as well as Alstonville, Lennox Head, Ballina, Evans Head etc). We will be in touch to discuss opportunities for your business.
- Social Media collaboration: start by 'liking' and 'following' other businesses across the region and collectively using the #discoverballina hashtag on your posts! Attached is a listing of all businesses that registered for the workshop, start by following each other on social media!
- Destination Blog to cross sell experiences: this is currently under development by the Ballina Coast & Hinterland tourism team
- Networking, partnering, meeting other tourism providers and ongoing opportunities to collaborate: some businesses have put up their hand to host an industry famil/business after hours event. We will co-ordinate these events once a month and be in touch with those businesses keen to host!
- Communication – email/newsletter/forum page. We have a database of over 600 local operators we utilise to keep you informed of what's on, new operators and new opportunities. We send an 'Industry Update' email every Wednesday! There is also the 'Industry Noticeboard' on DiscoverBallina we utilise as a hub/forum for communication. See attached handout for an overview of these communication channels. Use them, make the communication two-way, and contribute to collaborative communications!
- Hosting bloggers/Instagram influencers: some businesses have said they'd like to be involved and host a famil for influencers. This is an initiative we will also co-ordinate and be in-touch to make happen!
- More workshops!
If you feel we've missed anything, please let us know. This is just the beginning of something huge, make sure to stay connected!