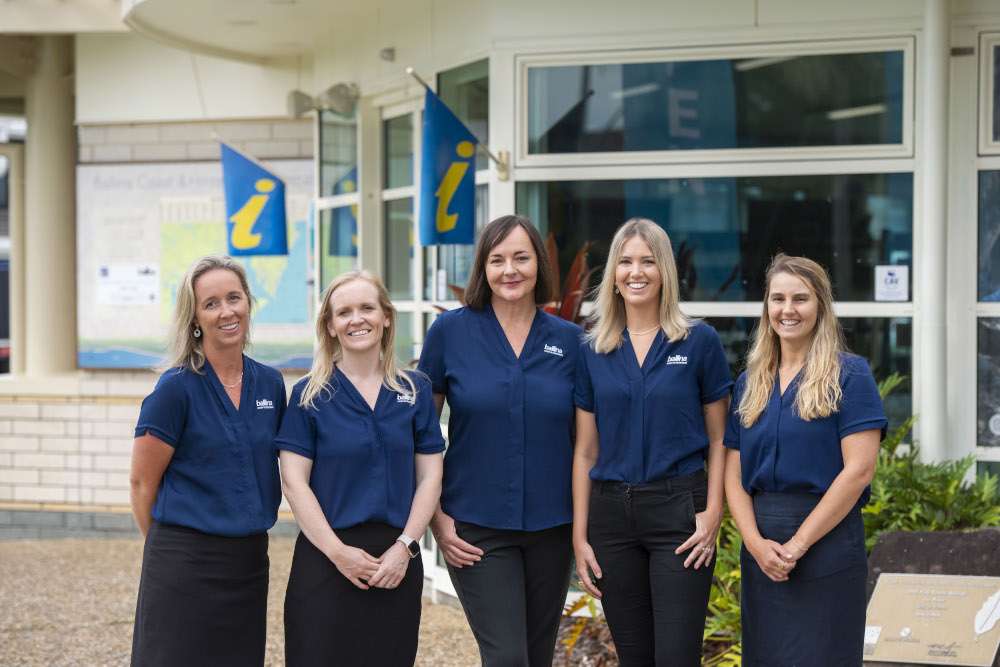 Ballina Shire Councils Tourism Team work to promote the Ballina Coast & Hinterland and the wider Northern Rivers region as key tourism destinations. The team consists of five passionate staff members who all completed their studies locally at Southern Cross University in Lismore. With a diverse range of interests and skills each team member brings a wealth of knowledge with them. Working from the Ballina Visitor Information Centre, the team also manage the Visitor Services desk at the Ballina-Byron Gateway Airport and the Northern Rivers Digital Visitor Hub at the Ballina BP Travel Centre.




Services the Ballina Tourism Team Provide
Social Media - We have an active presence on social media. Connect with us via @discoverballina on Facebook and Instagram and tag us in your posts so we can share
INDUSTRY NEWSLETTER - The Tourism Team produce a weekly online newsletter to keep you informed about matters that might impact your business or customers. It includes information on tourism related issues, weekly what's on news, funding opportunities, professional development workshops, new operator profiles and industry engagement opportunities. If you are a new operator or have changed your email address,

This email address is being protected from spambots. You need JavaScript enabled to view it.

to signup today

A booking service

to increase sales and secure customers for accommodation, tours, attractions, restaurants and experiences. This also raises awareness of your business online through our destination website discoverballina.com.au and through face to face sales at the Visitor Centre. Just signup to bookeasy to take advantage of more bookings for your business at competitive rates.
BROCHURE DISPLAY

Ballina Visitor Information Centre - FREE to display your quality DL brochures at the Visitor Centre
Ballina Byron Gateway Airport - Have your brochure on display in the arrivals terminal at the Ballina Byron Gateway Airport. This is a paid placement ($150 for 6 month cycle) as spaces are limited and a great opportunity to get your business in front of passengers flying into the busy airport. Contact the team on

This email address is being protected from spambots. You need JavaScript enabled to view it.

or 1800 777 666 to discuss

FREE Event promotion SERVICES - We can promote your event on various consumer websites that tap into over 2.4 million potential customers each month

What's On Calendar keep up to date with all events, workshops, activies & markets by checking our online calendar or if you are hosting an event, make sure to submit your event to the team to load.
'What's On' Guide is a printable guide that gives an overview of all that is on that month.
Posters and flyers can be displayed in the centre
School Holiday Activity Sheet - hosting an activity, workshop or event throughout the school holidays? Make sure it is included in our School Holiday Activity Sheet. The activity sheet is distributed to local schools, our industry database.

PRINTABLE GUIDES - Access our Printable Guides that cover What's On, markets, restaurants, beaches, local produce & tourist drives . These guides can be printed from the website as you require them.
UNIQUE gifts and souvenirs - From the famous prawn socks, custom designed shirts, local monopoly and everything in between; the Ballina Tourism Team pride themselves in the unique range of merchandise and stock on offer. With some exciting new products in the works, make sure you are following us on Facebook or Instagram to be the first to know when new stock is released.
INDUSTRY STATISTICS & PUBLICATIONS - the Tourism Team collate industry relevant statistics, display the current Destination Management Plan and relevant factsheets on the Industry Noticeboard
DESTINATION IMAGE LIBRARY - the Ballina Tourism Team own an image library, used to market and promote the destination. If you are looking for professional images to help showcase Ballina Coast & Hinterland in a non-commercial manner then apply for access to the library. Images can be used to bid for a conference to be held in the Ballina Shire or if your organisation is pitching to host a sporting group. You will just need to complete an image release form to make your request. The Tourism Team has produced a short motivational video that can be hyperlinked from your website, email signature and social media.
Paid Collaborative Marketing Opportunities
VISITOR GUIDE
We coordinate the publication and distribution of the regions official Visitor Guide. This is the one guide that provides a visitor with a comprehensive guide on where to eat, drink, shop, play and stay in the various towns and villages that make up the Northern Rivers. The Visitor Guides are distributed throughout the region and also to Brisbane, Newcastle and Ballina Byron Gateway Airports; Visitor Centres throughout NSW and South East Queensland and local accommodation providers and attractions.
ballina coast & hinterland map
The Ballina Tourism Team produce a street map of Ballina to Lennox and includes Wardell & Alstonville. There are limited advertising spots on the map so keep an eye on our Industry News articles for the next opportunity. These maps are distributed to accommodation properties, the Ballina Byron Gateway Airport and are the most requested piece of print material handed out at the Ballina Visitor Centre.
digital campaigns
Opportunities to particpate in digitial marketing campaigns through Destination NSW, Destination North Coast, Balina Byron Gateway Airport and other collaborations come up so again, keep an eye on our Industry News articles for the next opportunity
BALLINA BYRON GATEWAY AIRPORT BROCHURE ADVERTISING
The Tourism Team manage the Volunteer Airport Ambassador Program, Welcome Desk and brochure stand in the arrivals lounge at the airport. Volunteers are recruited and trained to assist visitors with a range of enquiries including everything from where to stay, transport options, where to go and what to see & do. A brochure stand is maintained daily by the Volunteer Ambassadors who greet direct flights from Sydney, Melbourne, Newcastle and Dubbo. Annual passenger numbers are in excess of 533,000, so it is a great opportunity to promote your business to thousands of visitors and locals at the airport. Subscribe to this service today and promote your business for the small fee of $150 (including GST) per six month cycle. This email address is being protected from spambots. You need JavaScript enabled to view it. to express your interest as space is in high demand.
This email address is being protected from spambots. You need JavaScript enabled to view it. or call on 1800 777 666 to discuss the right marketing opportunities for your business.