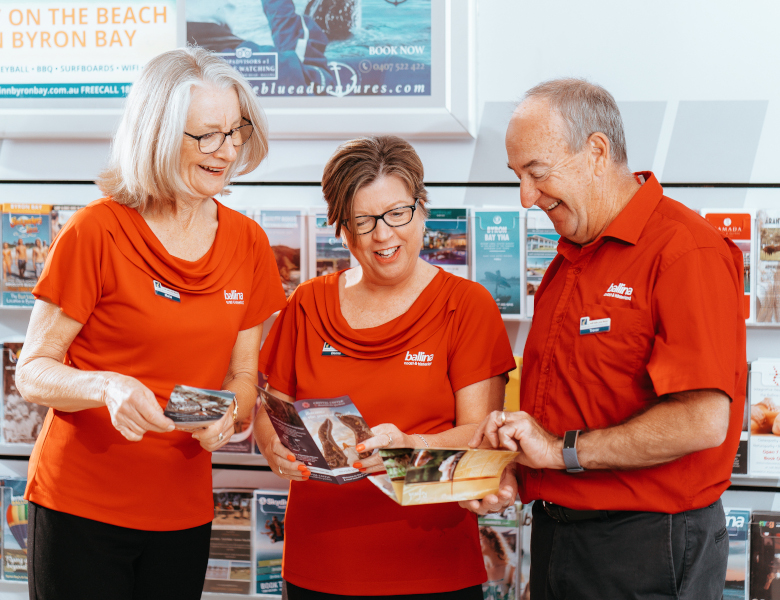 Expand your knowledge of the local tourism industry, meet like minded people, and share your love of the local area by becoming a volunteer tourism ambassador.
The Ballina Visitor Information Centre is seeking enthusiastic and customer service focused people to join our friendly team of volunteers working out of the Ballina Byron Gateway Airport and the Ballina Visitor Information Centre.
Volunteers meet and greet visitors arriving to the region while promoting local attractions, tours, activities and events. Volunteers help inspire visitors to spend more time in the region, while making lifelong memories.
Commitment
Volunteers are asked to commit 4 – 12 hours a week, working in both the Visitor Information Centre and the Ballina Byron Gateway Airport. Each shift is up to 4 hours and include both weekend and weekdays.
Vivienne Jagelman has been a part of the program for a year and expresses why she continues to enjoy her position as volunteer tourism ambassador; "I enjoy my volunteer position at the Ballina Visitor Centre and The Ballina Byron Gateway Airport. I feel part of a very professional and friendly team. The opportunity to meet other friendly and like-minded volunteers has been a lot of fun. I have learnt so much about my local area and feel proud to promote it".
If you are interested in volunteering please visit our website to find the full position description and application form at DiscoverBallina.com.au. Application forms can also be collected from the Ballina Visitor Centre at 6 River Street, Ballina.