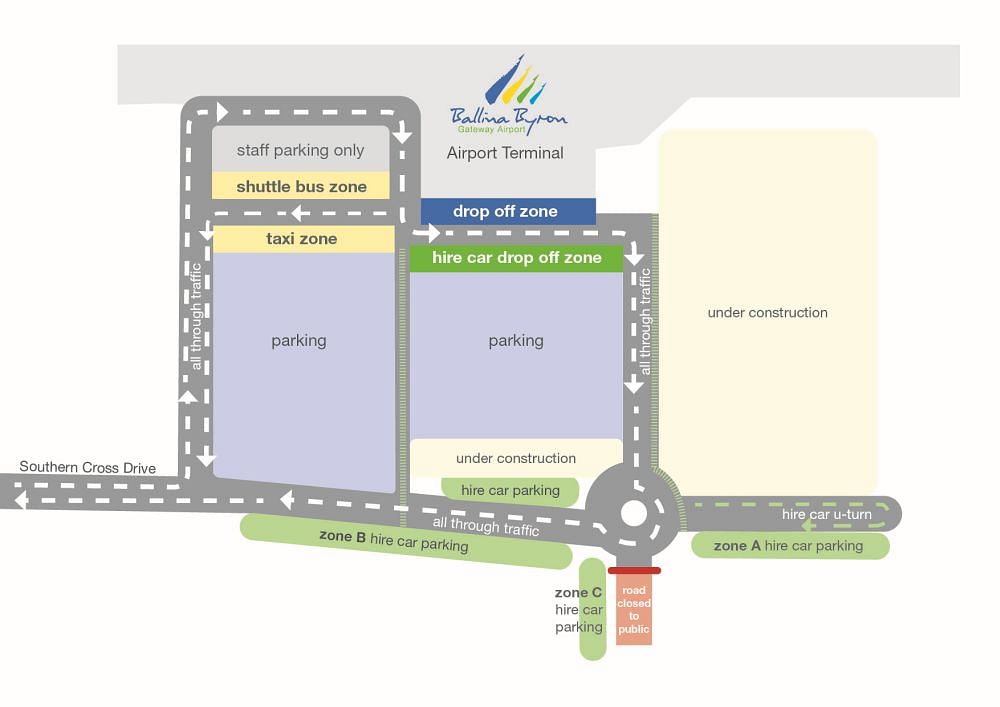 Residents and visitors are being urged to arrive early at the Ballina Byron Gateway Airport to avoid the inconvenience of traffic delays and parking changes.
Car parking is reduced and changed traffic conditions are in place while the airport carpark is being upgraded.
The community is encouraged to avoid driving to the airport where possible. Consider asking a family member or friend to drop off or pick up at the airport, or use alternative transport options such as taxis and shuttle bus services. For transport options visit ballinabyronairport.com.au/transport-links
The following traffic and parking arrangements are now in place:
One-way traffic circulation in the main airport precinct
Enter the airport turning left at Seven Mile Brewery via Southern Cross Drive
Exit the airport via the new roundabout on Airport Boulevard, turning right onto Southern Cross Drive
Set down and pickup areas in front of the terminal
Rental carparking located in Zones A, B and C (as shown on airport website)
Taxi/shuttle bus zones situated between the secure overnight carpark and the administration building.
The airport carpark upgrade commenced in August 2021 and is expected to be completed in December 2021 (weather and site conditions permitting).
Once completed, this project will provide an additional 100 carparking space at the airport. Other features will include dedicated ground transport and rental carparking areas, installation of solar PV system over part of the long term carpark, a new simplified carpark management system including boom gates, and landscaping.
For project information visit ballina.nsw.gov.au/airport-carpark-upgrade