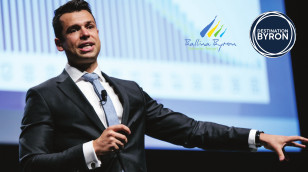 Destination Byron's Annual Tourism Symposium is back after restrictions saw the 2020 and 2021 events cancelled. Scheduled for 29 June 2022, Elements of Byron will welcome local and national visitor and tourism industry leaders, stakeholders, and attendees.
Destination Byron has secured data expert Simon Kuestenmacher to deliver the keynote presentation. Together with Bernard Salt, Simon Co-founded The Demographics Group, which offers business guidance on demographic, consumer, and social trends.
Simon has presented his quirky observations on demographics, consumer insights, and cultural change to groups in tourism and across industries in Australia and overseas.
At the Symposium, he will explore the key demographic forces affecting the region's liveability, employment opportunities, and visitor economy. Simon's presentation will introduce topics highly relevant to any business operating across the Byron Shire during this pivotal time, as well as the community more broadly. Attendees will also have the opportunity to ask questions.
Simon is a significant drawcard for the Symposium's return. Ranked as one of the world's top 10 data visualisation influencers, Simon has a global social media following of over 300,000. He is also a columnist at The New Daily, contributes to The Australian newspaper, and provides demographics and data commentary to media.
After morning tea, investigations into the region's future will continue. The audience will hear from representatives from the event's major sponsor, the Ballina Byron Gateway Airport, and Colin Hussey of A Perfect Stay, who will unpack the region's short-term rental market. The half-day event will finish with a panel discussion of the post-COVID domestic travel landscape.
Destination Byron represents the visitor economy industry to key tourism bodies, media, and government. The not-for-profit organisation offers free membership to all Byron Shire businesses and participants in local tourism.
The 2022 Annual Tourism Symposium is set to take place from 9:00 am to 1:00 pm, Wednesday, 29 June 2022, at Elements of Byron. Tickets are just $59 per person, down from $150 in previous years. With Simon as the keynote speaker, this price represents significant value.
For more information and to buy tickets, visit www.trybooking.com/BQVAN
Join Destination Byron at www.destinationbyron.com.au
Source: Destination Byron