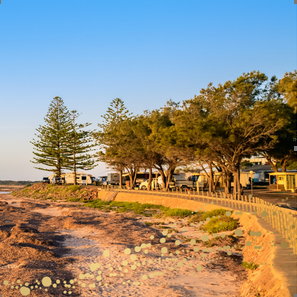 The Caravan Parks Grant will provide $10,000 to $100,000 matched dollar-for-dollar (or more) funding for eligible caravan parks to develop or improve infrastructure and assets.
Infrastructure and assets projects could include:
• Developing new caravan/camping sites
• Increasing the number of powered sites
• Installing new cabins or substantial renovations of existing cabins
• Installing new or upgraded recreational facilities
• Installing new or upgraded visitor amenities
• Upgrading sites, cabins or amenities to make them more accessible.

To be eligible to apply, caravan parks must:
• Hold an Australian Business Number (ABN)
• Be a legal entity that operates a caravan park within Australia with 40 or more powered sites used for short-term visitor accommodation. Powered sites refer to caravan or camping sites and cabins. Permanent accommodation or long-term sites do not count towards this number.
• Be solvent
• Have an account with an Australian financial institution that is located within Australian territorial boundaries
• Hold public liability insurance and other relevant insurance to cover the project.
For more information visit HERE