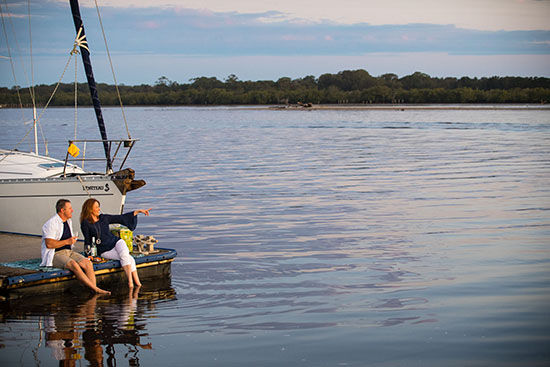 While a full international recovery remains distant, the outlook for Australia's visitor economy is brighter than at any time over the past two years, according to Tourism Research Australia's (TRA's) latest tourism forecasts.
Total visitor expenditure is forecast to surpass pre-pandemic levels this year (in nominal terms) and total $227.7 billion by 2027. This includes:
Domestic overnight trip and day trip expenditure moving higher than their pre-pandemic peaks this year and reaching $137.9 billion and $41.1 billion respectively by 2027
International visitor expenditure[1] exceeding pre-pandemic levels in 2024 before increasing to $48.8 billion by 2027.
The recovery of international tourism is expected to take some time and be uneven across markets and purpose of travel. Overall, visitor arrivals are forecast to move higher than
pre-pandemic levels in 2025 (a year later than for international spend) and total 11.0 million by 2027. The India and New Zealand markets are projected to achieve the fastest recovery, while leisure travel is forecast to return more quickly than education or business.
The turnaround for domestic travel is progressing more quickly. Overnight and day trip expenditure this year are already above pre-pandemic levels. The number of visitor nights are forecast to surpass pre-pandemic levels in 2023. By 2027, there are forecast to be:
8 million domestic visitor nights (up 11 per cent on 2019)
2 million domestic overnight trips (up 7 per cent on 2019)
4 million domestic day trips (down 2 per cent on 2019).
When it comes to the purpose of travel, the number of nights spent away from home on holiday held up strongly through the pandemic. Holiday nights are forecast to remain strong and return to pre-pandemic levels more quickly than nights spent away from home for the purpose of visiting friends and relatives (VFR) or for business.
Visitor nights to all states and territories are expected to move higher than pre-pandemic levels by 2024, with this mark forecast to be reached by some as soon as this year or in 2023.
[1] Throughout this report international visitor expenditure refers to spend in Australia by international visitors. International visitors are all visitor types, including students, who travel to Australia for short-term visits
(I.e. less than 12 months).