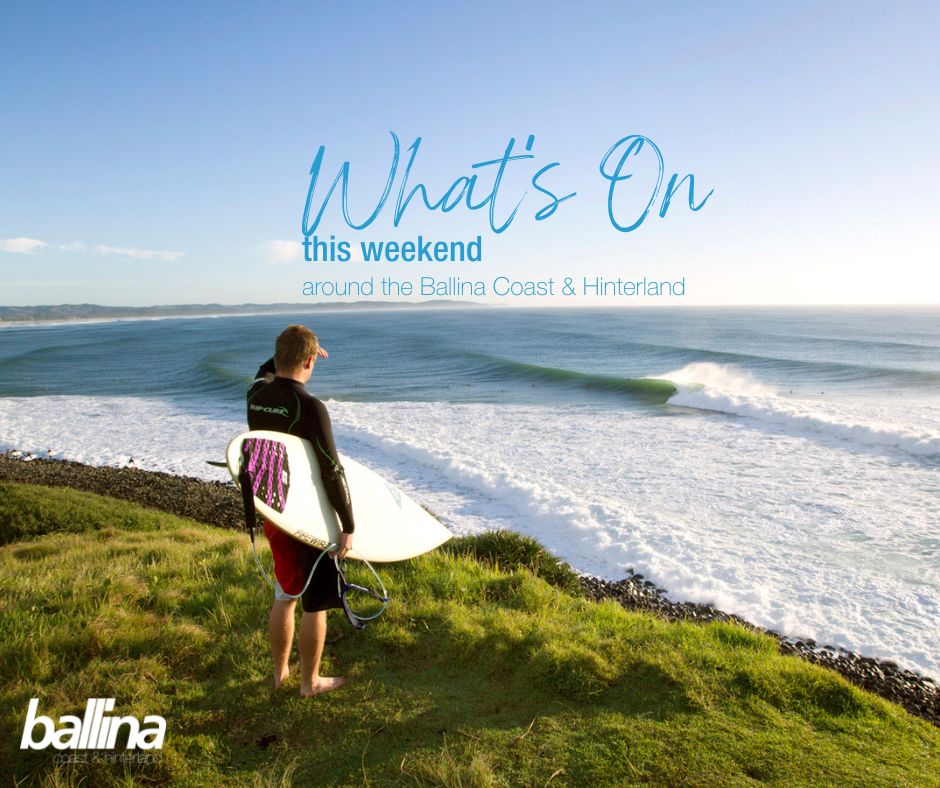 It's the first weekend of Autumn and there are lots of great events and activities happening around the Ballina Coast and Hinterland!
Kick off your weekend tonight at Shelly Beach Café's Taco and Maragrita Sunset Session. Enjoy live music, margaritas and a Mexican themed menu using local ingredients.
Up at Newrybar, Harvest are hosting their weekly Fun Friday event from 5pm to 8pm and have added an after party from 8pm to 10pm. There will be live music, kids entertainment, food trucks, garden bars and DJ duo playing till late! Both are free events but RSVP is required.
The Lennox Head Cultural Centre is holding some great events this weekend. Catch theJoe Cocker Experience tonight from 6:45pm. This 10-piece powerhouse band presents the extensive life's work of Joe Cocker in song.
If you're and ocean lover, don't miss the annualOcean Film Festival World Tour. Held at Lennox Head Cultural Centre this year, the evening will showcase a 3 hour celebration of our oceans comprised of sublime footage taken above and below the water's surface.
In recognition that it has now been 12 months since the floods impacted our community Ballina Shire Council invites everyone to join the Mayor for a Ballina Shire Community Morning Tea at Missingham Park this Saturday from 10.30am until 12.30pm. There will be light refreshments provided as well as live entertainment, kids face painting and treat.
Ballina on Richmond Rotary and Cherry St Sports Club are hosting 'Groovin' on the Green' this Saturday. This is a free ticketed family fun event for Ballina Shire residents affected or impacted by the flood. There will be live music, food & drinks and plenty of kids activities for everyone to enjoy the day. Tickets are limited and bookings are essential.
Over the hill, Lismore is opening its heart to the Northern Rivers from 2pm until 8pm this Saturday with 'Music from the Heart'. A free and epic community event held in the Lismore CBD with over 20 local bands on four big stages.
The event will bring rock, country, youth, soul and R&B to the streets of Lismore's historic block.
Interested in ecological restoration? On Saturday, Mullumbimby Community Gardens will be home to'A Day to Celebrate Regeneration'; a free one-day family-friendly community festival. There will be workshops on Bush Regen and Seed Propagation as well as walks and talks with leaders in the field. There will also be lots of fun stuff for kids including seed-bomb making, and an all-day Spaghetti Circus play-space.
For all the flower lovers in the region, be sure to check out the Coorabell Flower Show which is on all weekend at Coorabell Hall.
Finish off your weekend by listening to the lush harmonies of Isobel Caldwell as well as local folk singer, Myki Jay at Pearces Creek Hallon Sunday from 4pm to 6pm.
With plenty of other events, markets and activities to explore make sure you checkout the full list on the Discover Ballinawebsite. For a monthly overview view our February What's On Guide