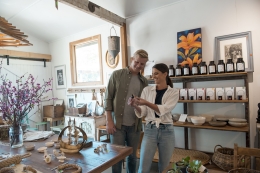 This May, June and August, the Northern Rivers Region will be positioned as 'the must see destination' for well heeled Sydney, Melbourne and Newcastle travellers. We will appeal to the target audience through a dynamic and digitally led campaign, offering unique experiences to help them 'get lost in the moment' during a Northern Rivers Escape!
If your business has a package or unique offer that would appeal to well heeled people aged between 22-34 and 50-64, that live for today, like getting back to nature, are cultured intellectuals, are caught up in the daily work grind and like to treat themselves, then we would like to hear from you. Key areas being packaged to appeal include 'gourmet food & drink', 'indulgences', 'amazing art', 'close to nature', 'somewhere nice to stay'
If you'd like to be part of this exciting opportunity, call the Tourism Team on 1800 777 666.