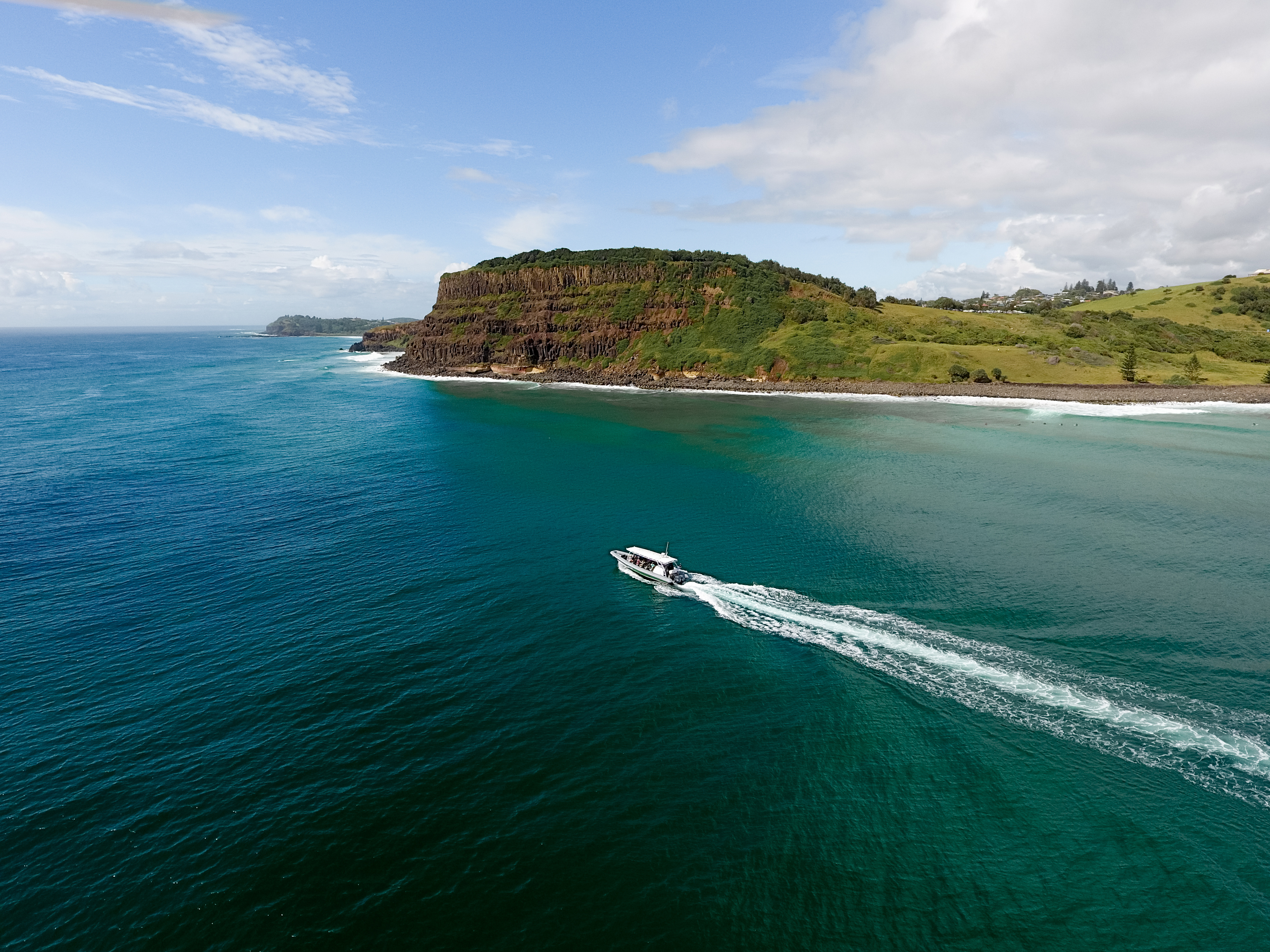 Out of the Blue Adventures has recently launched their new Ocean Adventure Tours and River Cruises, operating out of the Richmond River in Ballina.
Dean Fuchs, the founder and Captain of Out of the Blue Adventures has always had passion for the ocean and has spent many years operating commercial vessels in Australia, New Zealand and Europe. Dean has lived in the Northern Rivers for 7 years and during this time has explored our stunning coastline extensively and has gained valuable knowledge on our local area, the waterways and marine life.
Out of the Blue Adventures currently operates daily (weather permitting) with two ocean adventure tours; Byron Bound and Ocean Blast. They are also introducing River Cruises, which will be beautiful at sunset. During the whale migration, Whale Watching tours will be available from May-November.
Byron Bound is a fun filled three hour tour venturing into Byron Bay's Marine Park and navigating around Australia's most Easterly point. It includes an interpretive talk by their on board Marine Biologist educating guests in marine conservation and the natural environment they are experiencing.
Ocean Blast is an exhilarating, non-stop adventure taking passengers along Ballina's Stunning Coastline. There will be a quick photo opportunity of the incredible scenery during the ride before zipping back along the coast.
River Cruise: Discover the tranquil waters of the Richmond River around Ballina Island, explore the mangrove forests, the richly diverse flora and fauna and the creeks that branch off it. Sit back and bask in a glorious sunset over the river as you enjoy a tasty snack and some local history. The nature reserve will cease to amaze you.
Transfers available to and from Byron Bay and Lennox Head. Both tours include spray jackets, water and a snack.
Guest Testimonial: 'We had the most amazing day cruising the seas with Dean and the team! Like most couples with kids, we do a lot of research before booking anything for our holidays. Out of the Blue Adventures seemed to be a newer experience so we were unsure if it would be good or not. After the first 10 minutes of the day, we knew it was going to be a blast and were not disappointed.' - Anonymous

Out of the Blue Adventures is an eco-friendly tour company which supports Take 3 for the sea, a clean beach initiative and also discourages single use plastic on board the vessel. Dean and his team are extremely passionate about the ocean and its marine life and therefore take every necessary precaution in the water to protect the natural environment.
Tours can be booked at the Ballina Visitor Information Centre by calling 1800 777 666 or by visiting www.discoverballina.com
To speak with Dean and his team directly contact 0407 522 422 or visit www.outoftheblueadventures.com