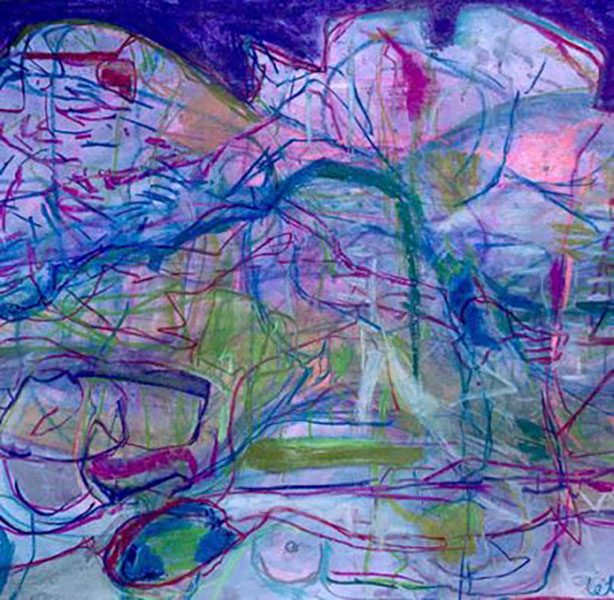 The Northern Rivers Community Gallery (NRCG) is launching three exciting new exhibitions on Thursday 8 March and is welcoming the community and visitors to join them in the gallery.
Exhibitions on display:
Escape to Nature l Clare Hopkins
Through her own mindful, curious exploration of her relationship with this magnificent region, Clare Hopkins provides a fascinating opportunity for the observer to take their own unique journey of emotions, feelings and memory through her evocative drawings in dry pastel. Her art powerfully embraces and enhances YOUR subjective experience, inviting endless and evolving creation and recreation of relationship with this land.
Paper Enso (Zen Circle) l Suzanne Rienits
Paper Enso' are layered Zen Circles on canvases and wooden tables, but instead of using ink for calligraphy, Suz uses the technique of Chigirie, where Washi (Japanese handmade paper) is torn up and glued layer upon layer to create the richness of the image. Suz will offer Japanese and Chinese Tea ceremonies, in which you can contemplate the Enso themed fixed canvas scrolls.
Experienced Landscapes 11 l Emily Imeson
Experienced Landscapes II is an exhibition of 9 large paintings of regional NSW. The paintings are developed from referencing en plein air paintings and sketches made on journeys taken into the landscapes around NSW.
All exhibitions open on Wednesday 7 March and continue until 1 April. The official launch event is on Thursday 8 March from 5:30pm-7:30pm and all are welcome to attend.
The Northern Rivers Community Gallery is located at 44 Cherry Street, Ballina. The gallery is open Wednesday to Friday from 10am-4pm and 9:30am-2:30pm on weekends. For more information contact the gallery on (02) 6681 6167 or visit their website www.nrcgballina.com.au