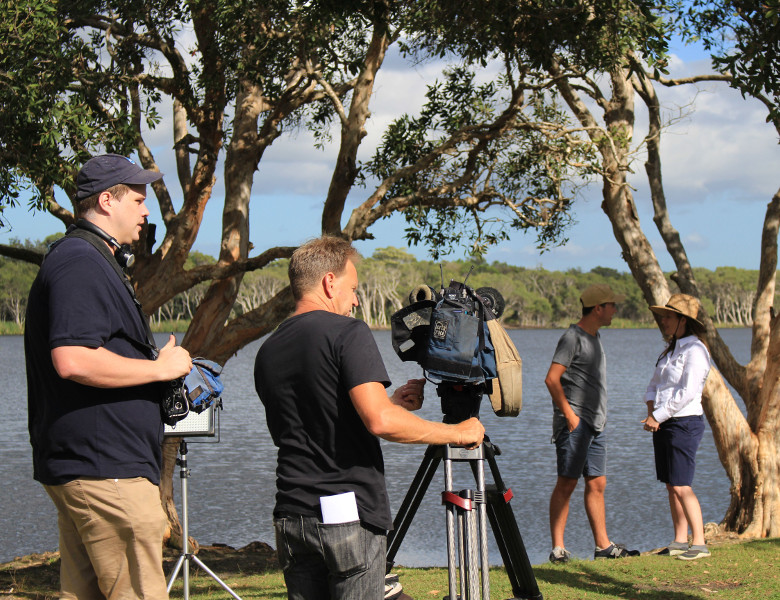 For over 25 years Totally Wild has been educating Australian children through their action-packed program. Earlier this year, we welcomed Jesse from the Totally Wild Team who interviewed our very own Rachael Jenner, Council's Environmental Health Officer.
The segment was filmed at lake Ainsworth and focused on the importance of testing the Lake for pathogens and algae to ensure the popular spot is safe for swimmers.
The Lake Ainsworth episode will air on Network Ten 8am Tuesday 17 April 2018.
The team from Totally Wild also filmed a segment that showcased the Westpac Little Ripper Life Saving Drone in action at lennox Head Beach. In mid-January the Little Ripper Drone, which is fitted with a floatation device, made a world-first rescue of two swimmers caught in a three metre swell. Lifeguard Supervisor, Jai Sheridan, piloted the drone towards the swimmers, dropping the rescue pod into the water. Both swimmers held onto the pod and made their way back to shore. It took just over a minute for the Little Ripper to travel one kilometre to the swimmers - a task that would have taken lifeguards up to six minutes.
The Little Ripper Drone epsiode will air on Network Ten 8am Tuesday 10 April 2018.