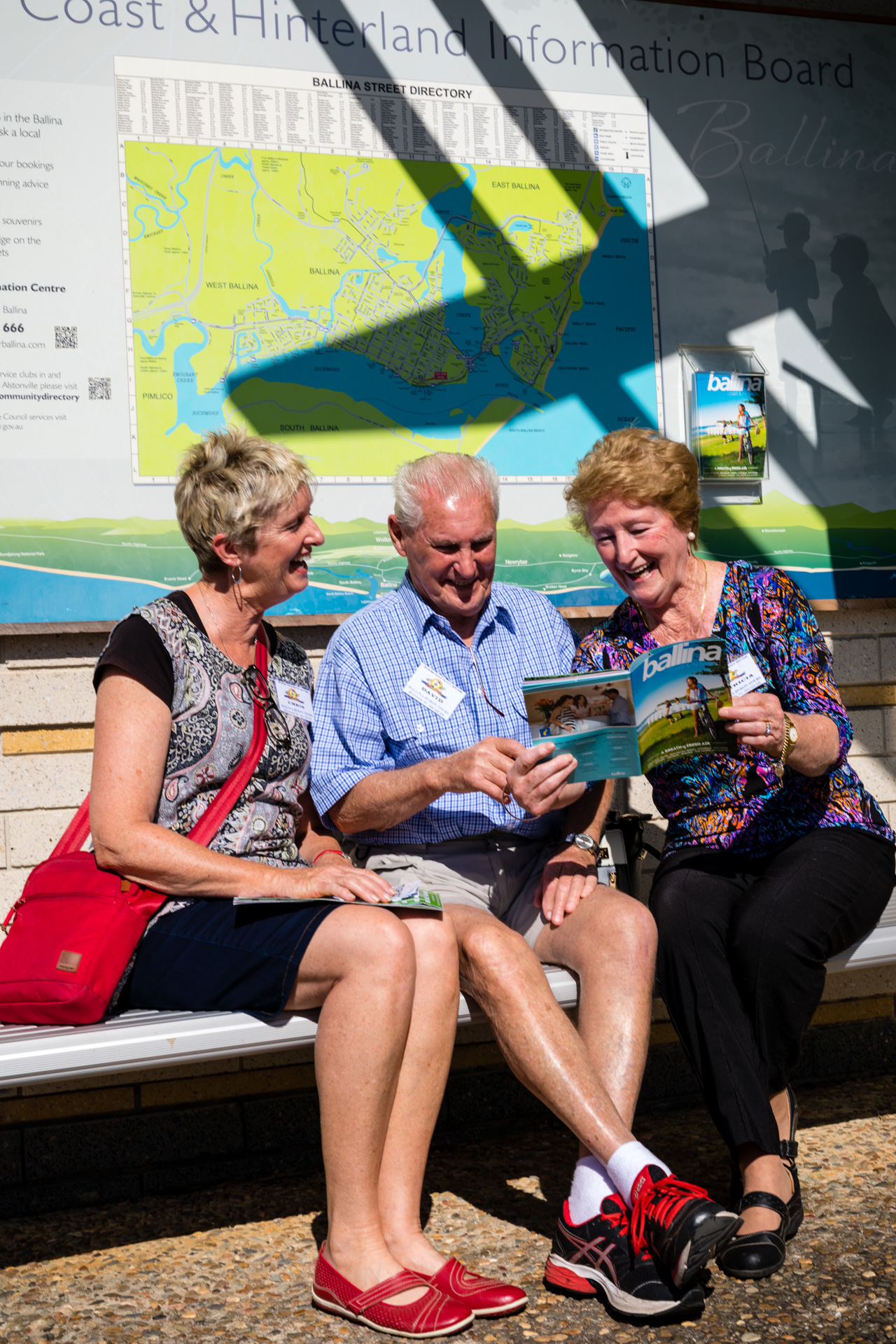 Inclusive tourism is about making sure your business is accessible to everyone. Seniors, people with disabilities, people with illness or temporary injuries, even families travelling with small children, they are all part of the Accessible Tourism market. It is estimated that 20 percent of Australian adults require some assistance with access and as our population continues to age, this is only expected to grow presenting both a challenge and an opportunity for tourism businesses.
The North Coast Destination Management Plan (DMP) identifies Tourism Training & Capacity Building as a strategic priority. As identified in the DMP (Action Item 6.3) there is a need for improved knowledge and customer service training in the inclusive tourism space to enable better service to this growing travel sector. There are also good social and economic reasons for businesses to improve in this space.
To that end and as DNC continues to deliver on DMP projects, we are rolling out a Inclusive Tourism Project & Industry Capacity Building Workshop Series over the coming weeks.
DNC welcomes your attendance at the Ballina Workshop detailed below as we look to make the North Coast a more inclusive region for visitors.
Please RSVP your attendance as numbers at each workshop are limited.
Project & Workshop Details
7:35am - 12:00pm
Quality Hotel Ballina
Compton Drive
East Ballina
Morning Tea Provided
Register for free here
Workshop Aim: Outline issues, challenges and rewards to improve service delivery in this space.
Who Should Attend: Tourism business/property owners & managers, sales & marketing managers, decision-makers, customer service and front line staff, tourism association members and destination managers.
Project Overview: 10 half-day workshops will be delivered at key hubs across the North Coast between Monday 25th November and Thursday 5th December and will be facilitated by Inclusive Tourism Pty Ltd.'s CEO and founder, Melissa James, a qualified access consultant and expert in this field. Follow-up operator support will be provided as part of this project.
Workshop Content Summary
• Market definition - who, what and how including market size and opportunity for businesses
• Preconceptions will be addressed with examples of visible and invisible disabilities
• Case study examples will be provided including examples of quick wins and larger investment opportunities with ROI analysis. Relatable best practice examples will be provided that show both the commercial opportunity and practical routes to market to reach/service this growing sector.
• The practical steps for operators as to how to become a more accessible business will be explained.
• Examples of Access Statements, their purpose and usage will be explained and best practice examples for use by accommodation, restaurant, activity/attraction and transport providers etc., including alignment with ATDW accessibility criteria. Include:
• Attendees will be provided with tools to improve language, behavior and customer service standards.
Follow-up Support & Feedback on Accessibility Guide for Workshop Attendees
• Following the Workshop, attendees with have a one-time opportunity to receive guidance and feedback on their draft Accessibility Statement from the Workshop Facilitator.
• At the end of the Project, each attending business will have developed an Accessibility Guide available for distribution via various channels.
• Each participant will be encouraged to accept a complementary 12-month listing on www.CanGoEverywhere.com.au website directory of tourism providers as part of the workshop delivery.
Project & Workshop Outcomes
• Improved awareness and knowledge of Inclusive Tourism among North Coast tourism stakeholders
• Raised sensibility towards this sector resulting in improved customer service among stakeholders. Participants will be able to recognise barriers and act to remedy them
• Gain an understanding of the potential commercial opportunity of better servicing this sector
• Learn tools to assess business operations and gain detailed knowledge of how small changes can yield improvements to improve customer satisfaction. Learn how to make meaningful improvements to attract and service this sector and better understand respectful interactions, the importance of staff knowledge and training, language used etc.
• Receive support to develop Access/Accessibility Guide for their own business including one-time feedback on their draft Accessibility Guide, and
• Gain a solid understanding of the practical application/distribution/use of these Visitor Access /Accessibility Guides and the commercial opportunity that may result.
Source: Destinaton North Coast