Lennox Head Cultural Centre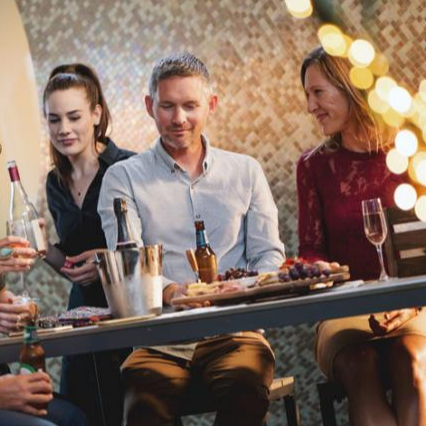 The Lennox Head Cultural Centre caters for up to 550 guests, offering a well-appointed auditorium for large events, along with separate meeting room spaces.
Details
Across the road from beautiful seven mile beach, the Lennox Head Cultural Centre is the perfect place to hold your next business event. Just a ten minute drive from Ballina town centre and less than fifteen minutes from the Ballina Byron Gateway Airport, with direct flights from Sydney, Melbourne, Newcastle, Dubbo and Canberra.
This high quality venue comprises of a main auditorium that accommodates up to 550 people and is fitted with retractable tiered seating, should you require this. The auditorium has the flexibility of being set up to suit a variety of needs, and with separate meeting rooms that adjoin, it offers additional meeting spaces or breakout areas.
Watch your presentations come to life on the huge six-metre retractable screen and dazzle your delegates from the curtained stage. 
The foyer is large, open and airy, with plenty of natural light. It provides a welcoming space for delegate registration, cocktail functions, or refreshment breaks.
For more information please contact the Ballina Business Events team on (02) 6681 0525. 
---
Take a Virtual Tour
---
Capacity
| | | | | | |
| --- | --- | --- | --- | --- | --- |
|  Room Name  | Banquet | Boardroom | Classroom | Theatre | U Shape |
|  Auditorium |  200 |  - |  - |  550 |  - |
|  Meeting Room 1 |  22 |  16 |  12 |  35 |  17 |
|  Meeting Room 2 |  30 |  28 |  24 |  70 |  23 |
|  Meeting Room 3 |  40 | 40 |  30 |  120 |  38 |
|  Meeting Room 4 |  24 |  22 |  18 |   |  16 |
|   Combined Meeting Rooms |  40 |  40 |  30 |  90 |  38 |
---
Distance from Lennox Head Cultural Centre to:
Ballina Byron Gateway Airport: 14.4km
Lennox Head CBD: 2.3km
Ballina CBD: 12.7km
Seven Mile Beach: 850m