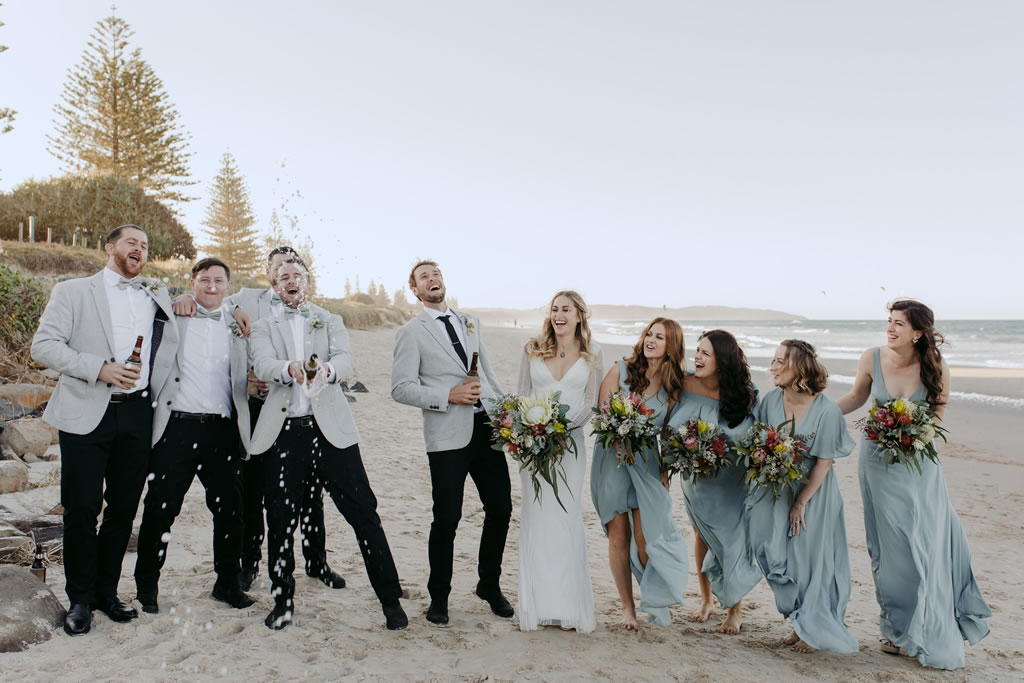 Lennox Head - Image: Seven Mile Weddings
Let's be honest, wedding planning can be a stressful ordeal. From picking a venue, to putting together the guest list and everything in between; the lead up to your big day can at times be overwhelming. If you are looking to simplify things, the Ballina Coast and Hinterland region is the perfect place to start.
Well known for its stunning beaches, relaxed lifestyle and plethora of diverse and experienced suppliers the Ballina Coast and Hinterland Region is no stranger to the wedding scene.
Within a 25 minute drive south of Byron lies the stunning coastal townships of Lennox Head and East Ballina. The pristine beaches, quiet atmosphere and great accommodation options makes this area a perfect choice for your beach front wedding.
Whether you're a local couple or planning a destination wedding, getting married in Ballina promises to be a magical and memorable experience that celebrates love against the backdrop of one of Australia's most beautiful coastal towns.
If you are planning a beach front wedding, this article will give you some great options available in this beautiful location!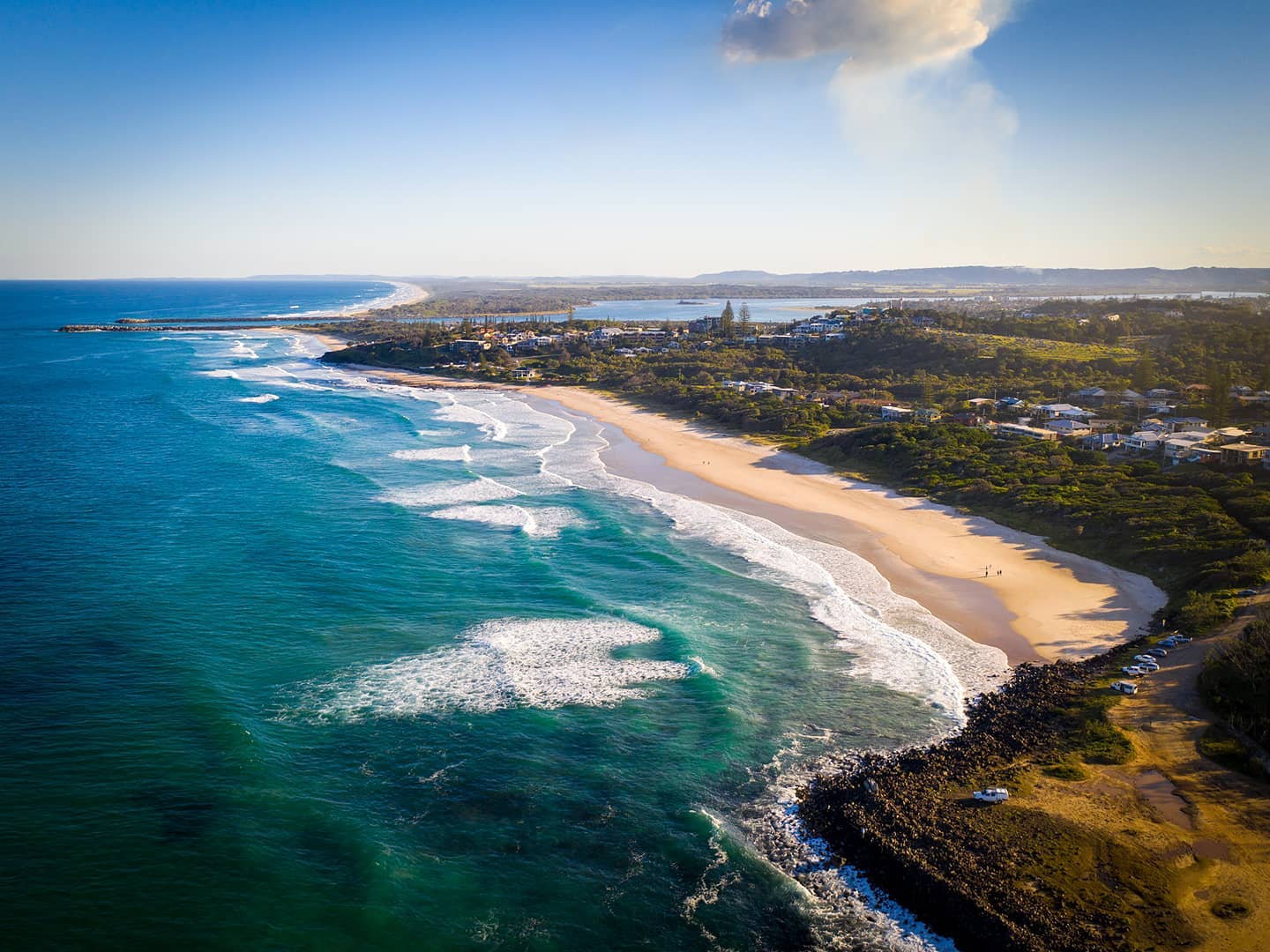 Shelly Beach - Image: Instagram @fnxeye
East Ballina
East Ballina's coastal landscape is truly something special. The lush, green rainforests that hug the coastline provides stunning contrasts and ample photo opportunities. Shelly Beach is a favourite among locals for its unique rock pools and naturally private setting. Lighthouse Beach, situated next the North Wall on the Richmond River is another great option with the Lighthouse Beach Café available for the reception afterwards. Other options include the quiet and stunning Angels and Sharpe's Beach both of which will provide stunning coastal backdrops for your special day. Regardless of which seaside location you choose, the beaches at East Ballina are some of the best in the Northern Rivers region.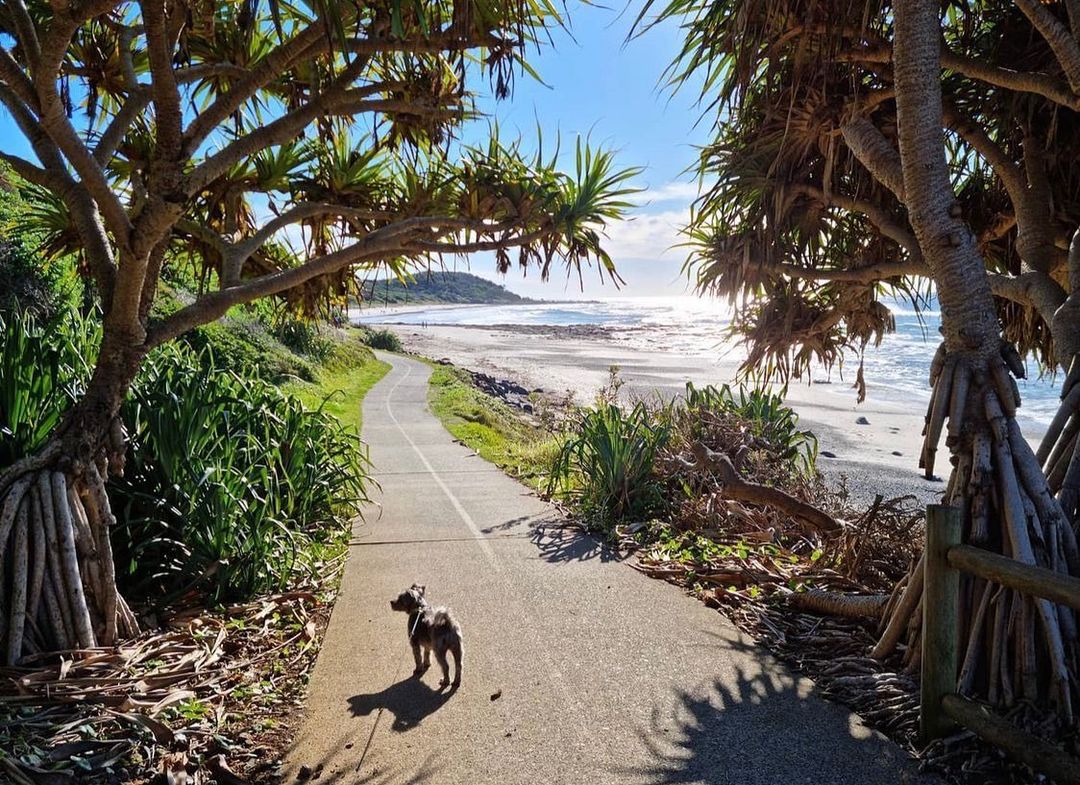 Coastal walk East Ballina – Image: Instagram @julesober
Stay
If you choose to have a destination wedding accommodation is one of the most important aspects of the whole event, for both you and your guests. Whether it's only for the night or you choose to make a holiday out of it, having a range of different accommodation options to suit everyone is essential.
Grandview Apartments
Grandview Apartments Ballina occupies an elevated position in a premier coastal location set amongst lush tropical gardens. Choose from two bedroom, three bedroom or deluxe penthouse apartments – all are well appointed with numerous elegant features. Adding convenience to your big day, Grandview Apartments are only a short walk to Shelly Beach and Lighthouse Beach so you won't have to worry about transport. Oh and we can't forgot to mention, the views are to die for!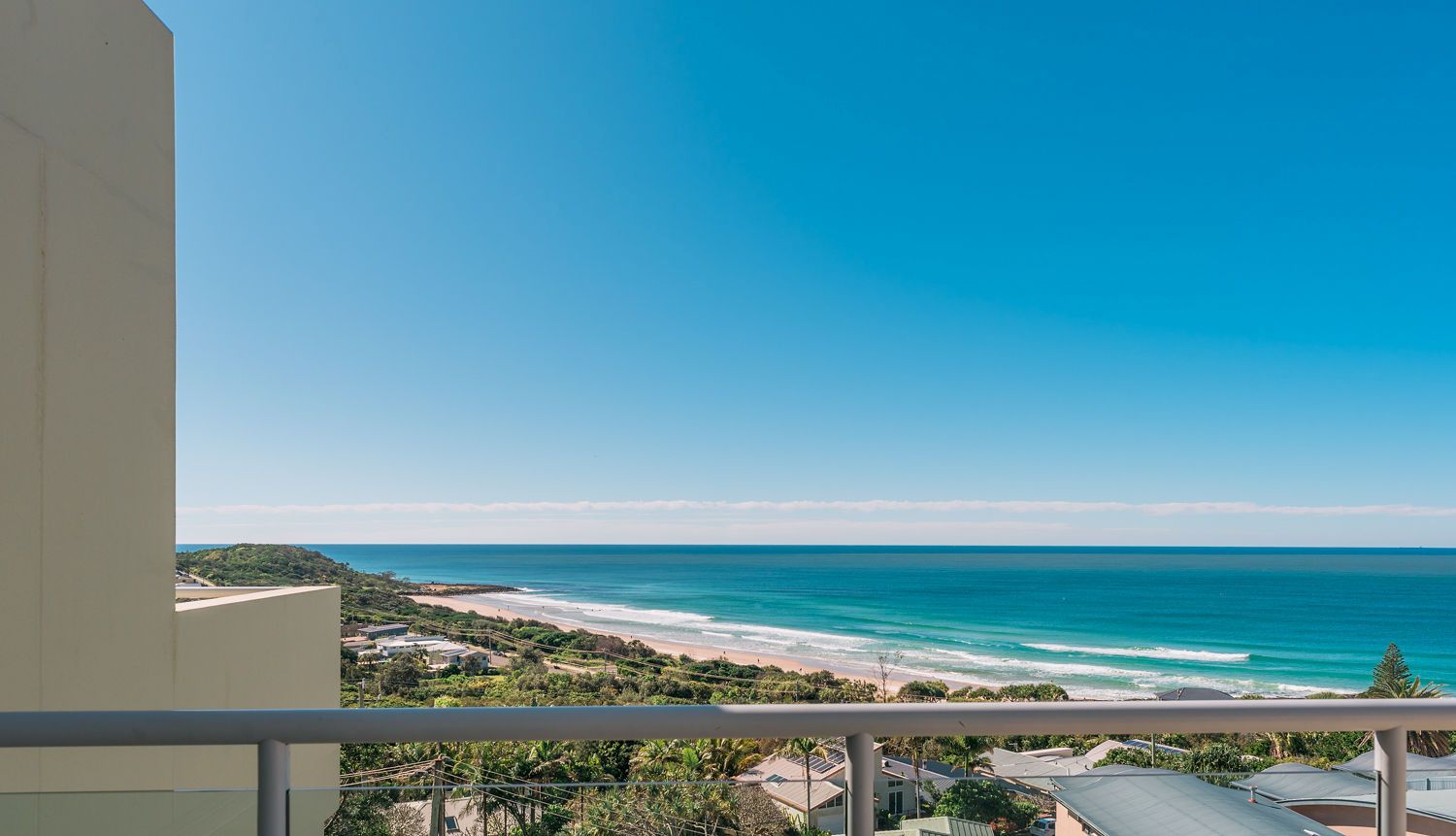 Photo: Grandview apartments - View of Shelly Beach from Penthouse terrace
Ballina Beach Resort
Situated next to lighthouse beach in Ballina, the Ballina Beach Resort offers 46 rooms with either a private balcony or patio. The resort has a range of different rooms on offer, suitable for individuals, couples, families and groups of friends. The resort also has two function rooms and can cater for small intimate weddings or larger weddings up to 120 people. Within walking distance to the beautiful beaches and cafes of East Ballina this location offers convenience and style for your big day.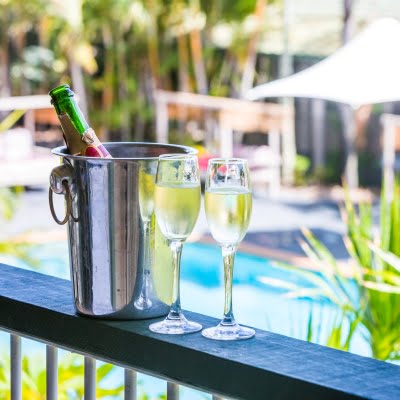 Holiday and Caravan Parks
For guests looking for budget friendly accommodation, those travelling with kids or the avid caravans and campers – Holiday and caravan parks may be an appealing option. Reflections Holiday Parks at Shaws Bay and Discovery Parks Ballinaoffer cabins and campsites along with all the facilities you would expect, both within a close distance to East Ballina's beaches.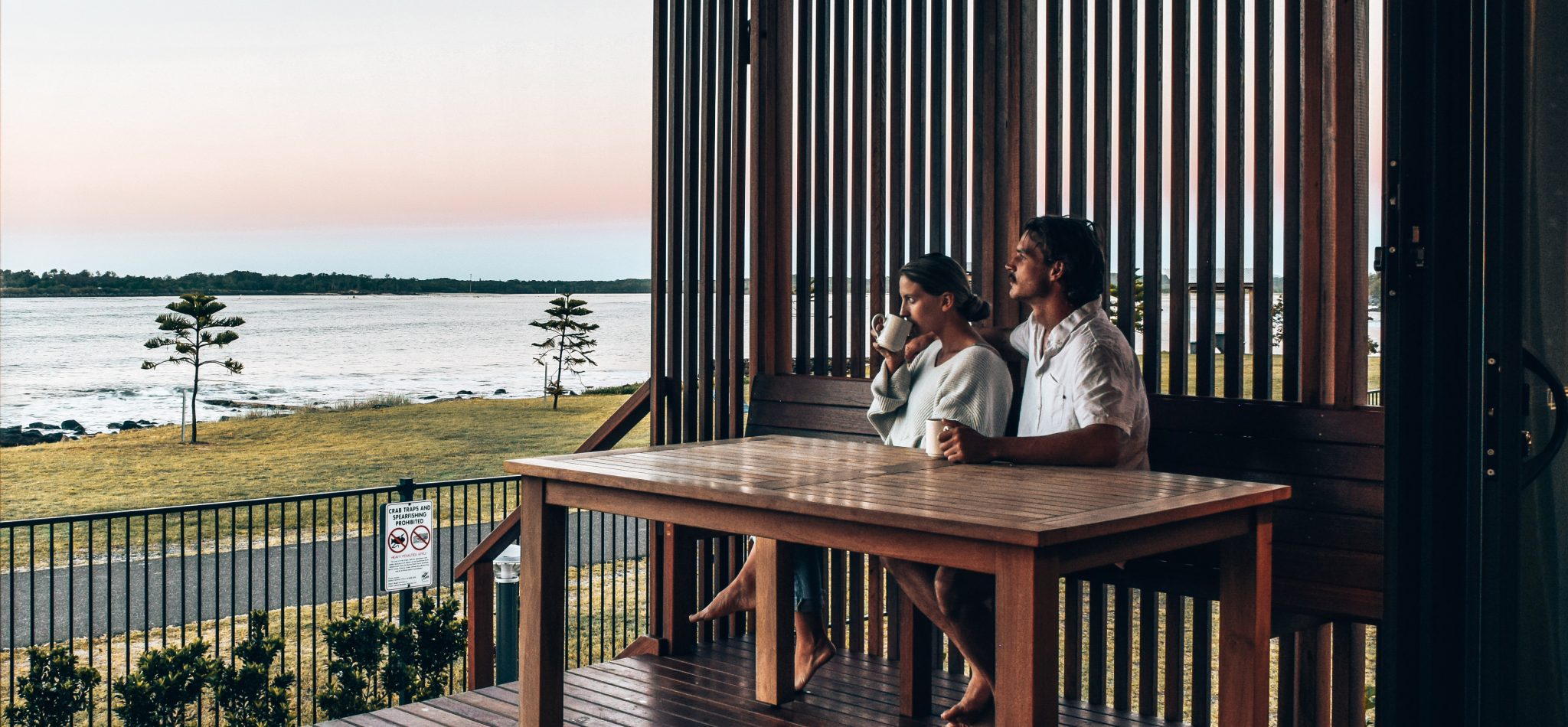 Image: View from river frontage cabin - Reflections Holiday Park Shaws Bay
Eat
If you choose to stay in East Ballina you will have no shortage of food venues to enjoy while here. The Belle General is a favourite amongst locals, their diverse menu offers a range of high quality meals that caters for all dietary requirements. For undisturbed ocean views both Capiche and Shelly Beach Café will not disappoint. Coffee and Kitchen East Ballina offers laid back dining with fresh, local produce.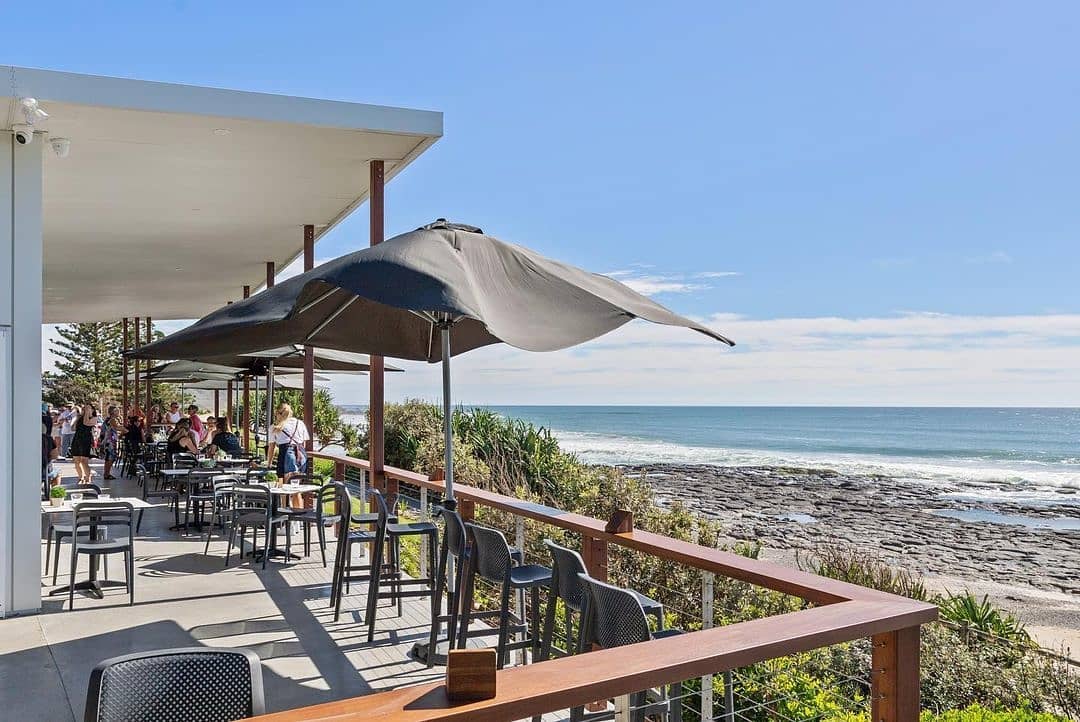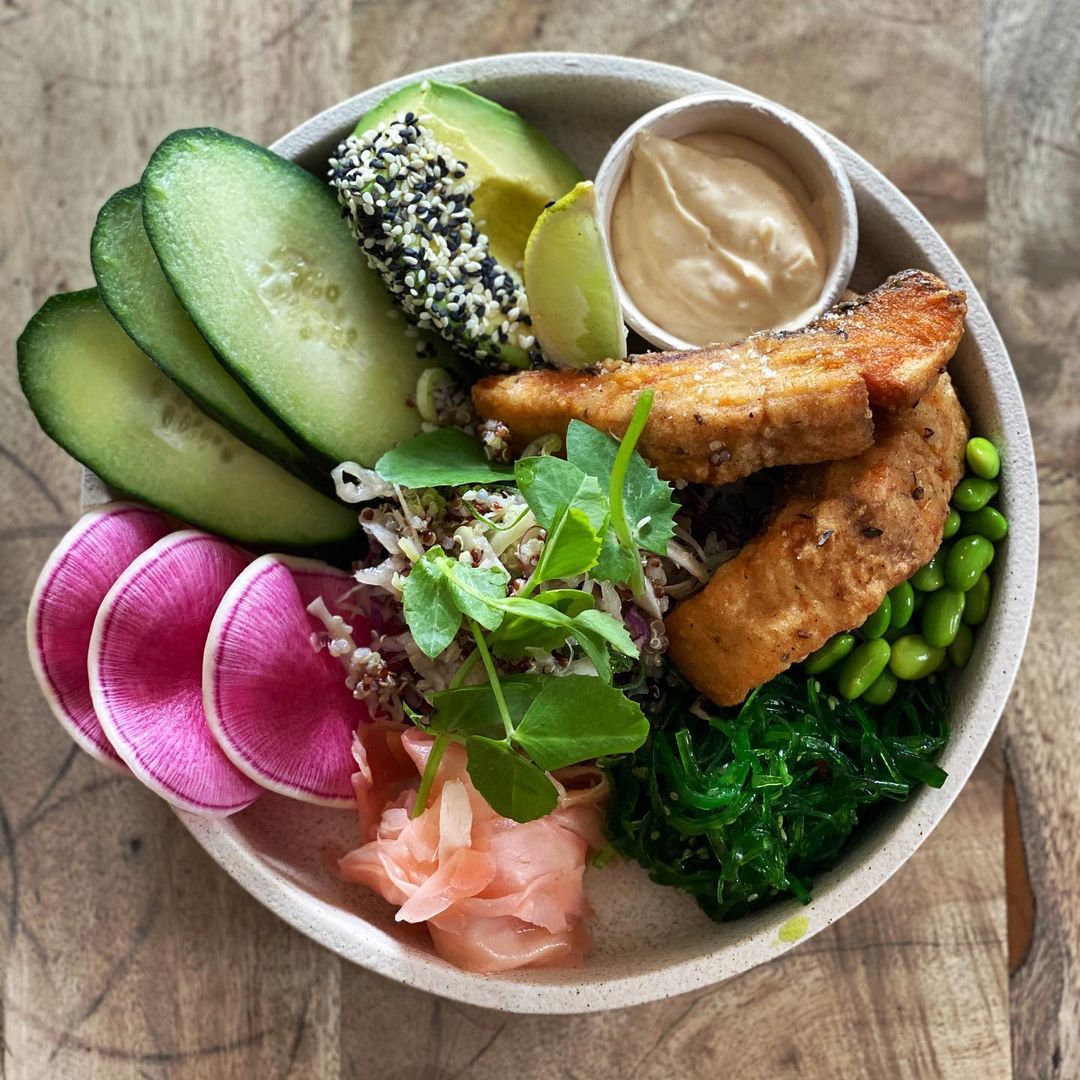 Shelly Beach Café – Image @agscommercial Poke Bowl– Image @thebellegeneral
Venues
Avoid the stress of getting everyone from the ceremony to the reception with beachside venue options. For ocean views Shelly Beach Cafe and Capiche cannot be beaten. Enjoy these stunning venues and relax knowing they have all your catering needs covered. In the same beautiful location, Ballina Surf Clubhas function rooms available. If you are looking for a venue that can take care of everything from the catering, reception, event management and accommodation Ballina Beach Resort is a great option. With three acres of topical gardens for ample photo opportunities, great function rooms and knowledgeable staff to ensure the day runs smoothly the resort has a lot to offer.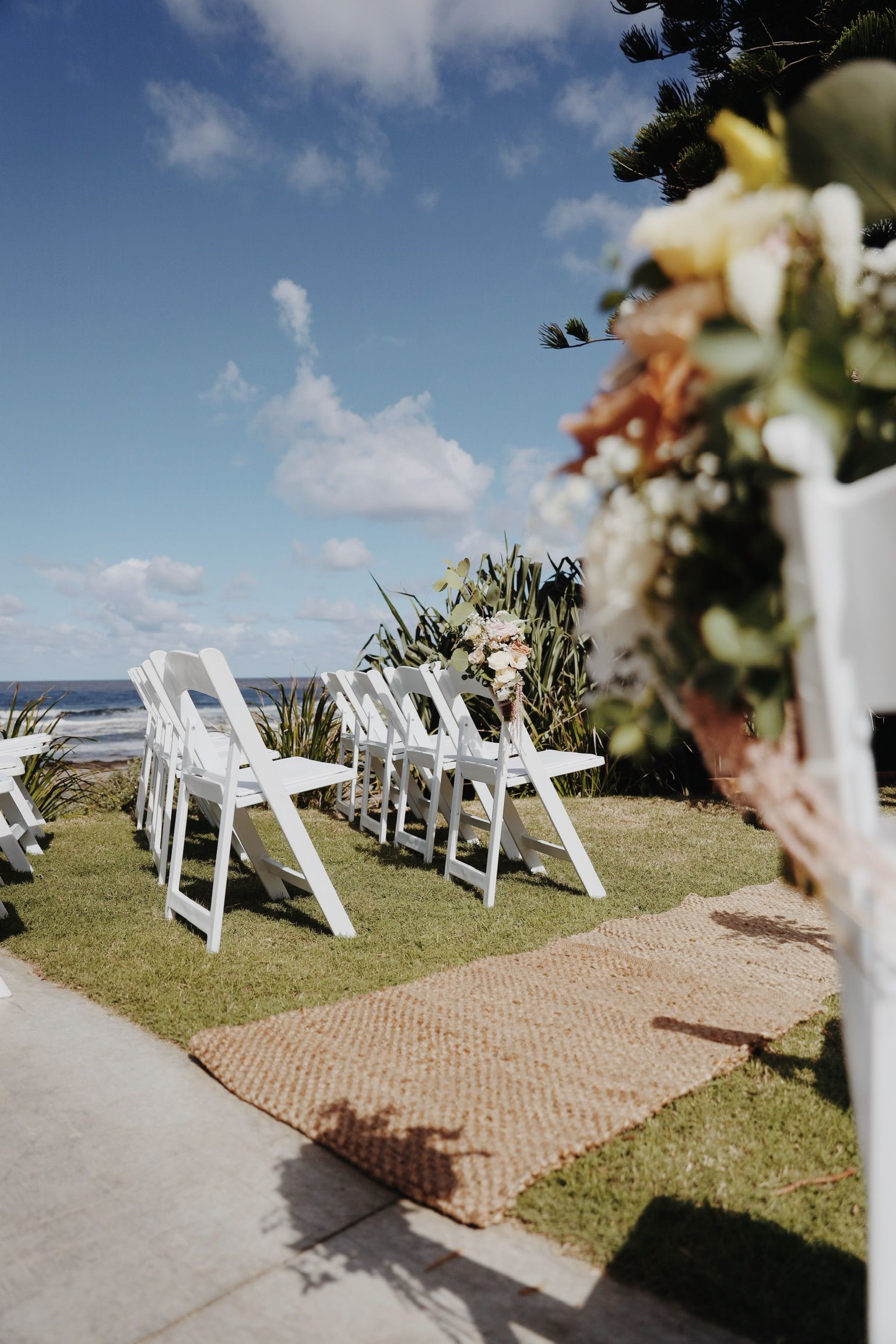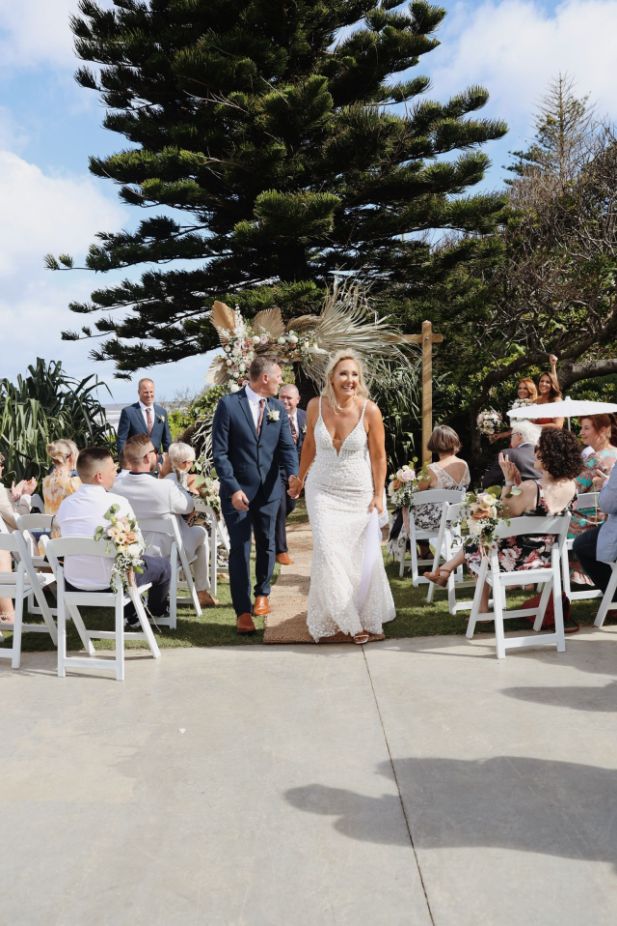 Shelly Beach Cafe – Shelly Beach Cafe
Ten minutes north of Ballina, lies the beautiful coastal town of Lennox Head. The stunning coastline is contrasted with the expansive headlands, rolling hills, quaint farm lands and lush coastal rainforest. Lennox Head may be a small town, but it packs a big punch when it comes to locations, venues and accommodation options.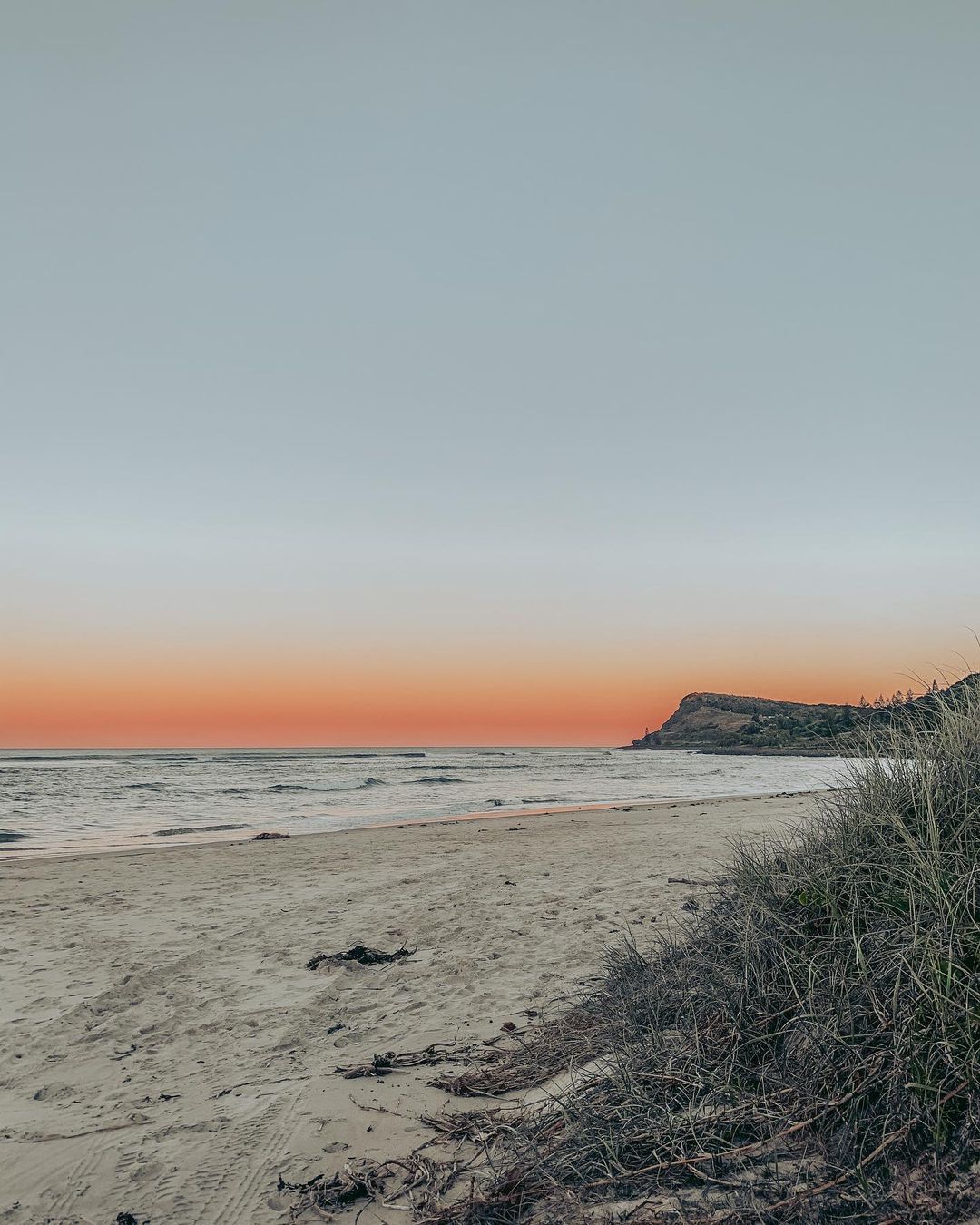 image: Instagram @lennoxdays
Venues
Lennox Head has some amazing beach front venues to cater for a range of budgets, styles and capacities. Seven Mile Weddings is a beachfront site sitting within Lennox Head's well known Beef and Beach Restaurant, with full ocean views from the whole venue. With a fully stocked bar, various menu options and everything you could possibly need to fit out the venue Seven Mile Weddings make the whole process seamless.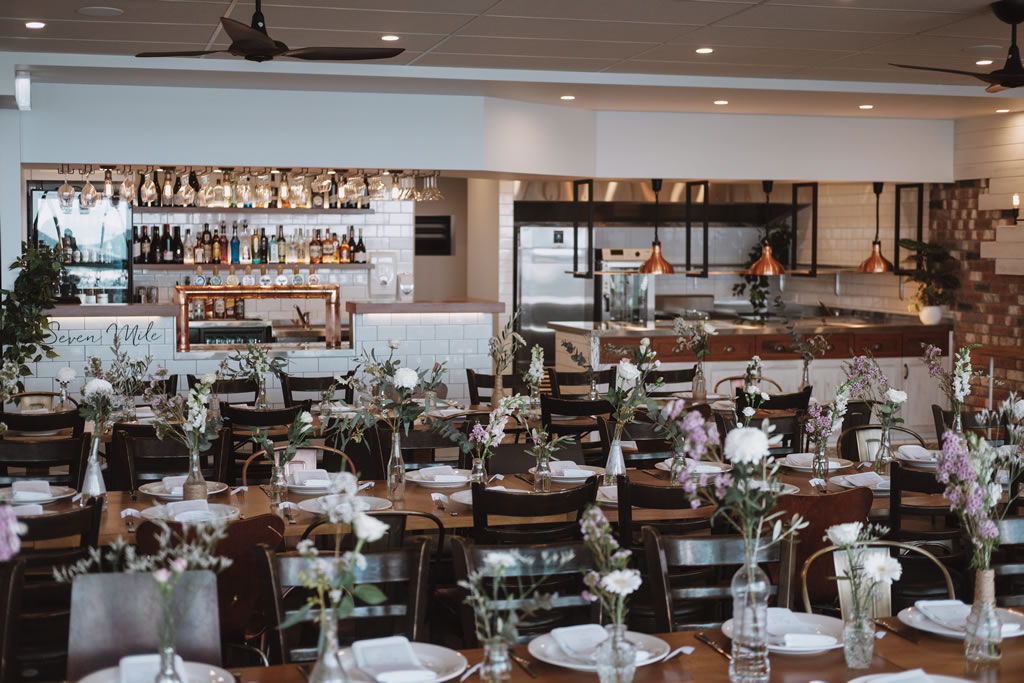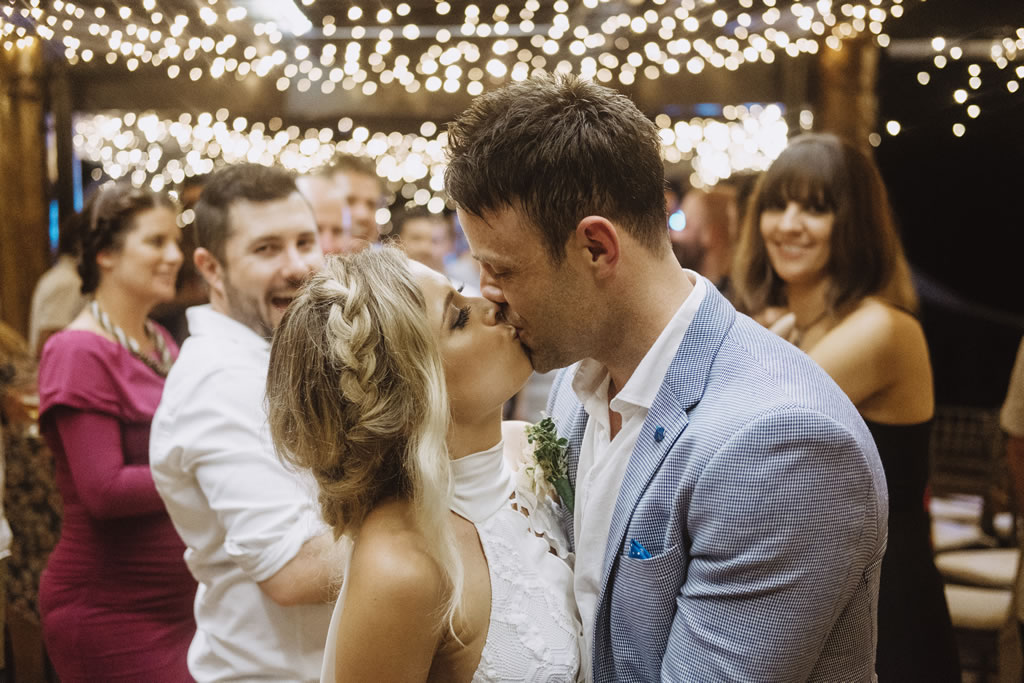 Images: Seven Mile Weddings
Lennox Head Surf Club offers stunning views of Seven Mile Beach with a laid back feel. The 'venue only' hire suits those wanting more freedom to choose suppliers. Complete with a commercial kitchen, bar and beautiful open decks that take full advantage of the beach front location, Lennox Surf Club provides the ideal venue for your special event.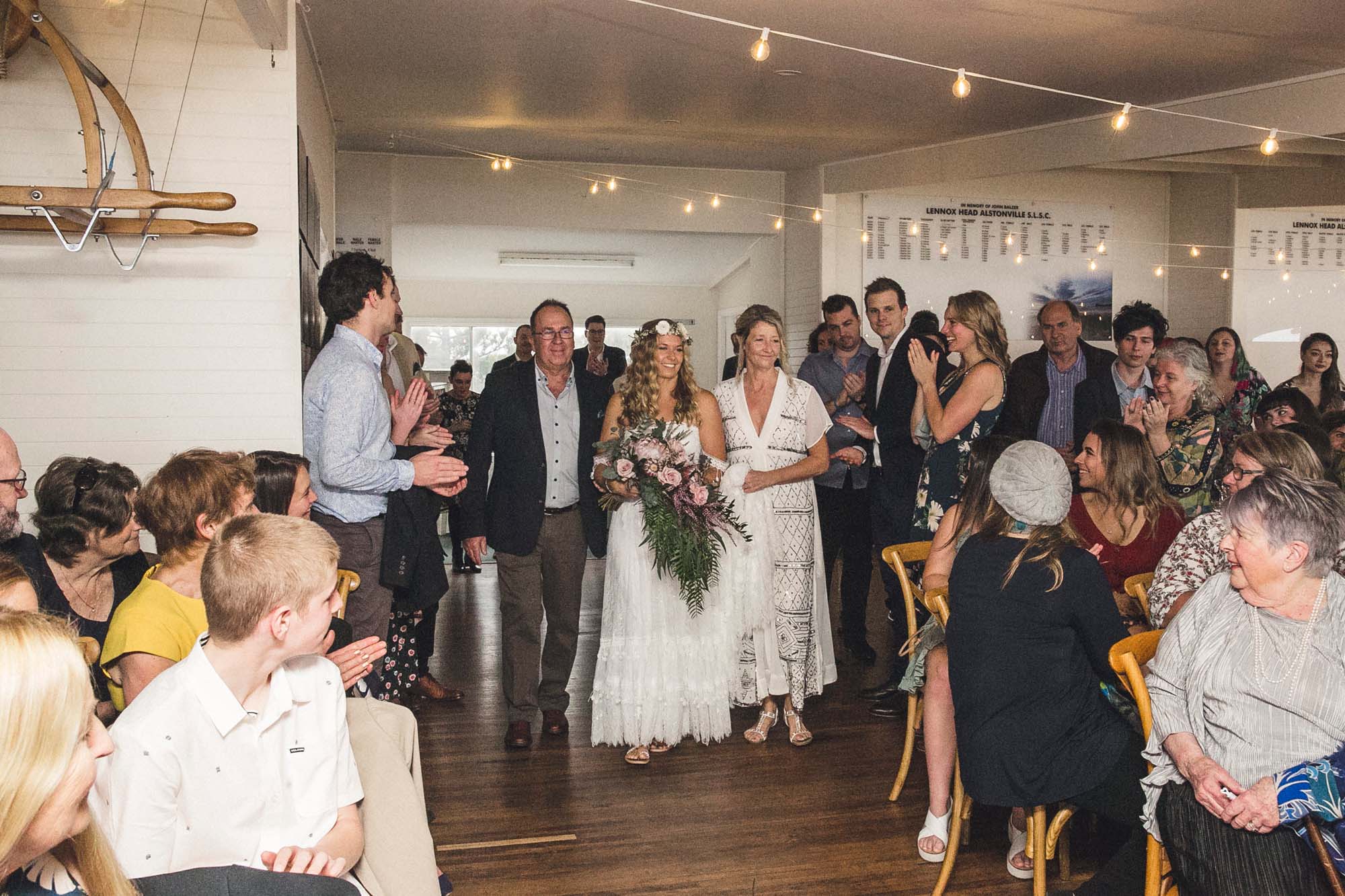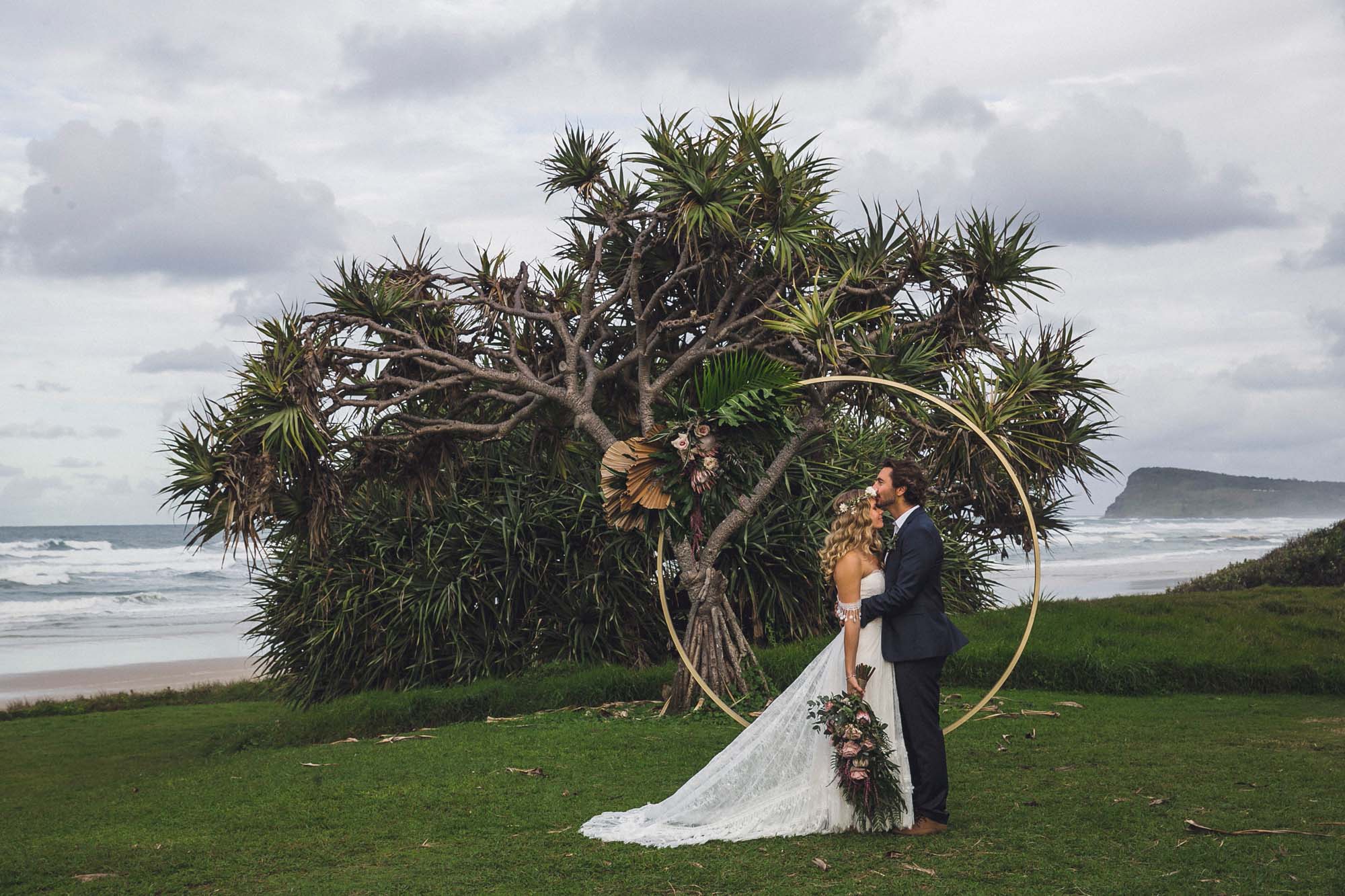 Images: April Werz photography
Shelter is one of Lennox Head's most well-known dining venues and they are well equipped to bring you an unforgettable reception. Located directly opposite Seven Mile beach, on the onsite coordinator will help organize everything from the ceremony, the reception and accommodation onsite for the bride and groom. Shelter is well-known for serving up seasonal, local foods with creativity in mind.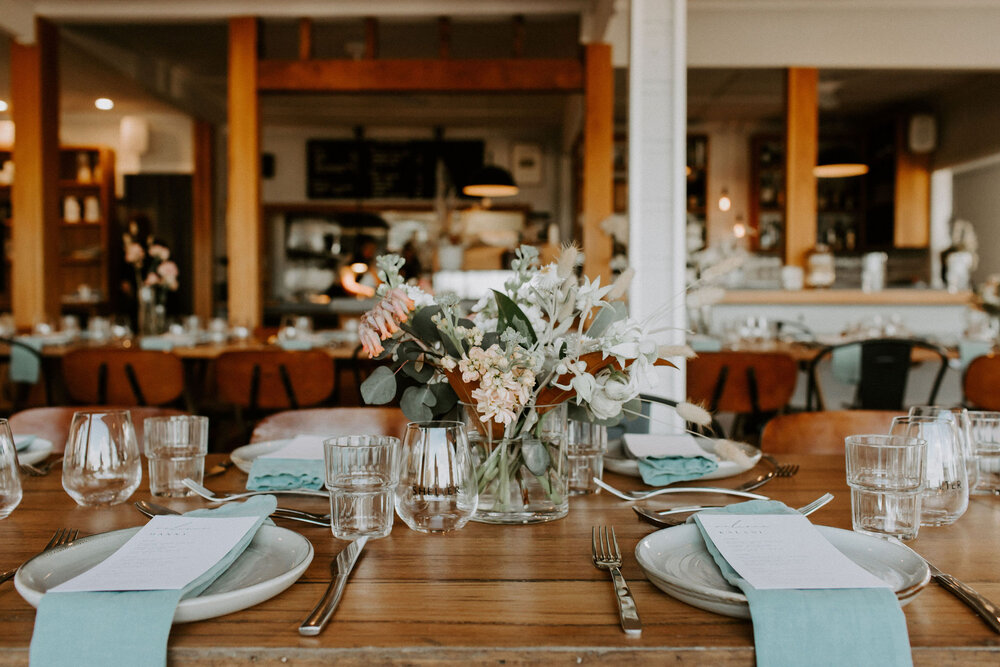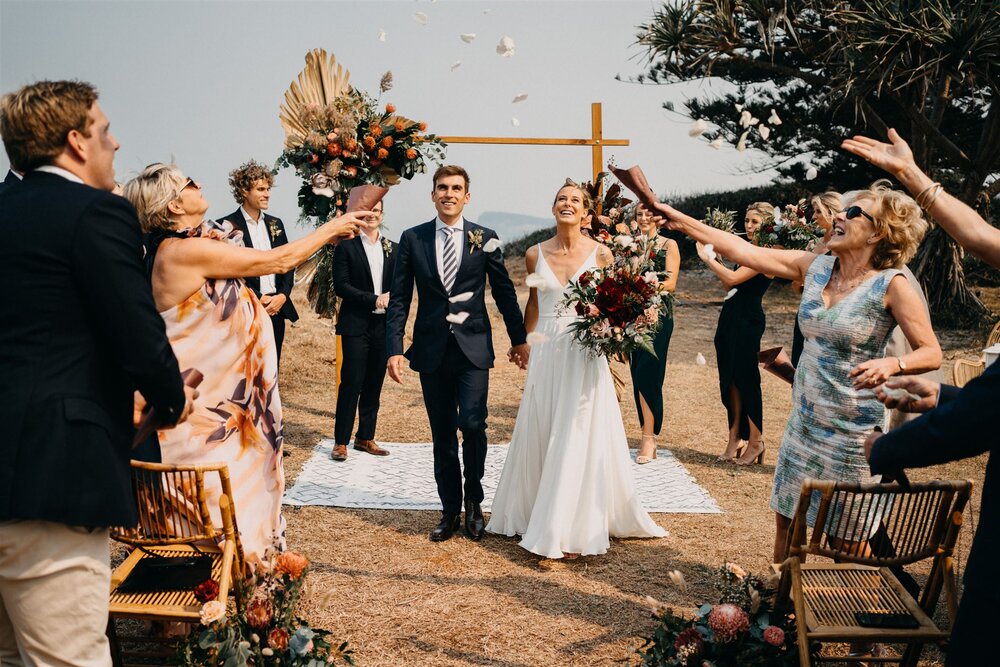 Images: Shelter Lennox
Lake Ainsworth Sports and Recreation Centre has a beautiful function venue situated on Lake Ainsworth and Seven Mile Beach. They offer a range of catering options to suit you. The light, spacious venue is lined with large windows that give an uninterrupted view of Seven Mile Beach. Choose to have your ceremony on the viewing platform over Seven Mile Beach or the stunning Tea Tree Lake.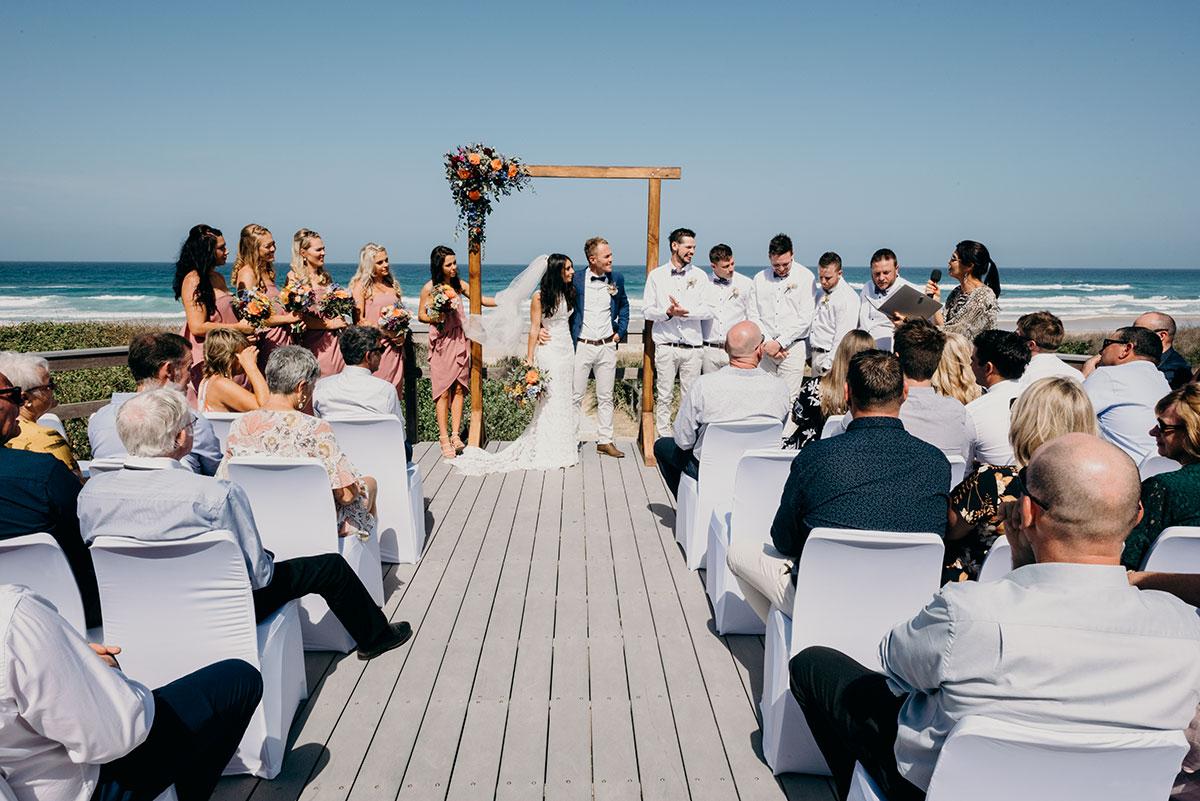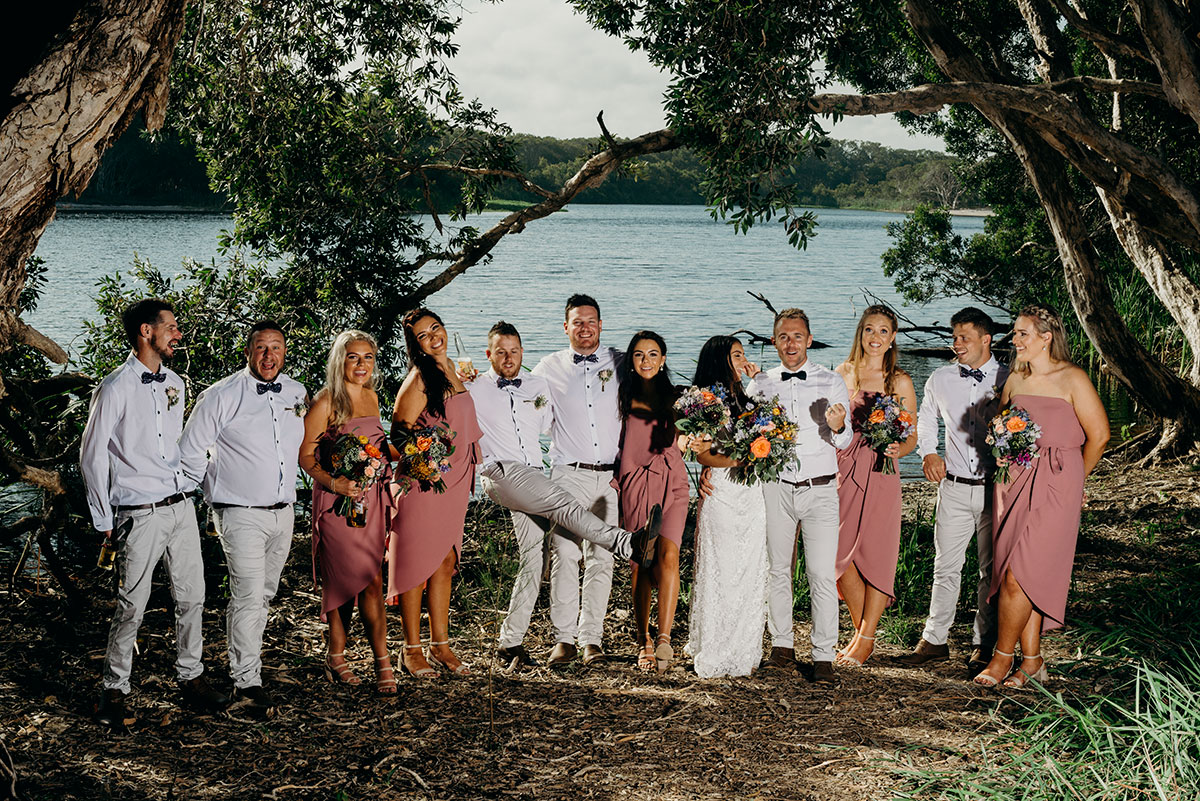 Lake Ainsworth Wedding – Images: Gary Patterson Photography
Ceremony
Lennox Head has no shortage of beautiful locations for your ceremony or wedding photos. If you want to have a ceremony on public land you can find all the information and the application form on the Ballina Shire Council website.
Pat Morton Lookout / Lennox Point
Overlooking the beautiful beaches of Lennox Head and surrounded by lush subtropical rainforest Pat Morton lookout has no shortage of photo opportunities. Enjoy stunning views of Lennox Point then take a walk over the headland and find yourself surrounded by the enchanting coastal rainforest.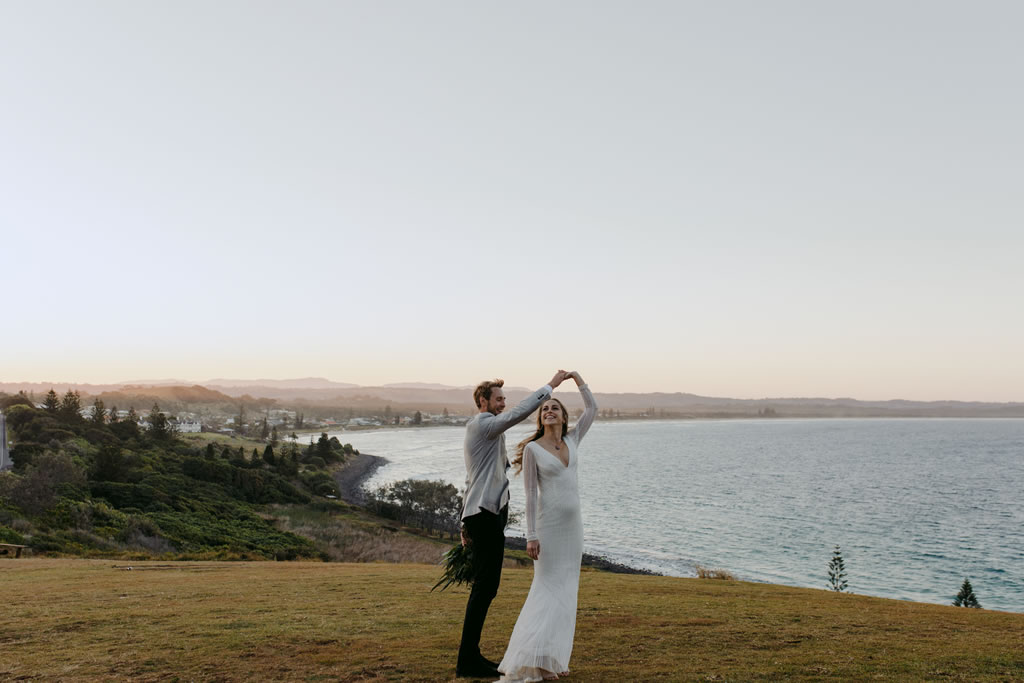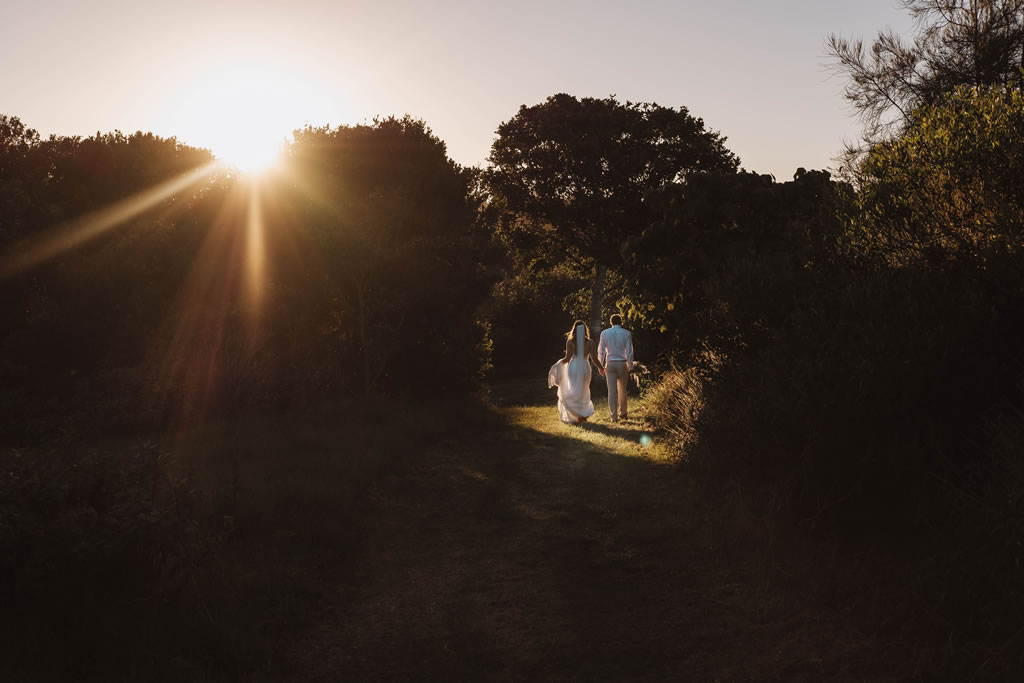 Pat Morton Lookout and Pat Morton Headland Coastal Walk – Image: Seven Mile Weddings
Seven Mile Beach
Easily one of the most iconic beaches in the area, Seven Mile Beach offers pristine coastline, white sands and an uncrowded, laidback setting. As the name suggests, Seven Mile Beach is quite a long stretch of coast, so finding your own spot of secluded paradise is no problem.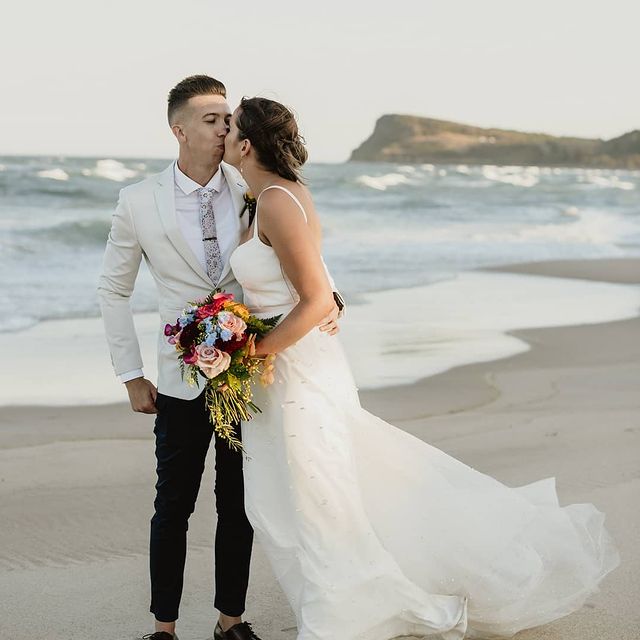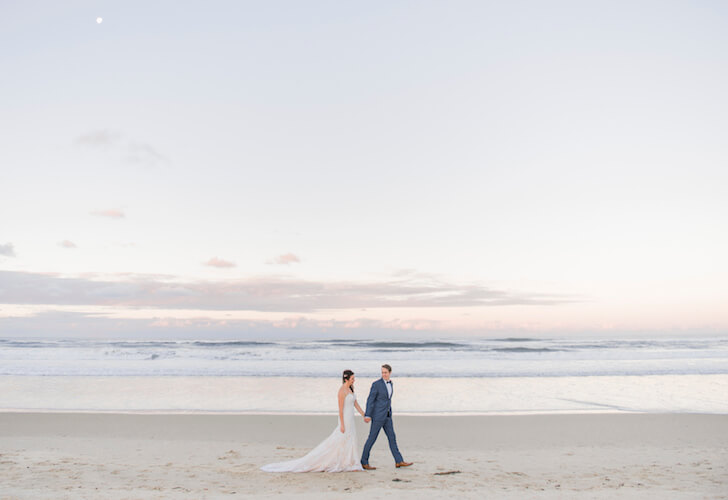 Image – Instagram @byebyeblackbirdphotography Image – Lennox Head Surf Club
Lake Ainsworth
Can't decide between the beautiful local bushland and a beach front wedding? Lake Ainsworth could be the answer. This dreamlike fresh water lake is just a stone's throw from the main street, directly opposite Seven Mile Beach, bordered by National Park Land – this location really does have it all! Said to have rejuvenating powers, the beautiful tea tree lake reflects the surrounding bushland and makes for a stunning backdrop.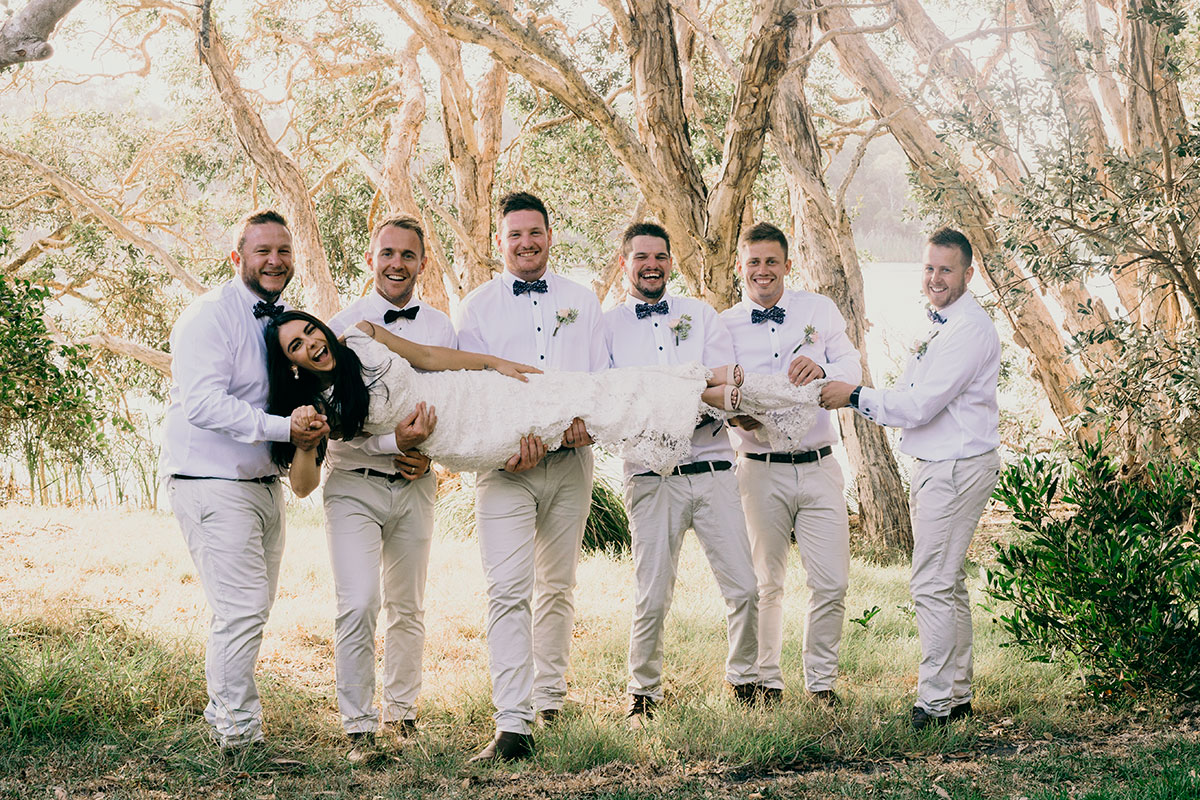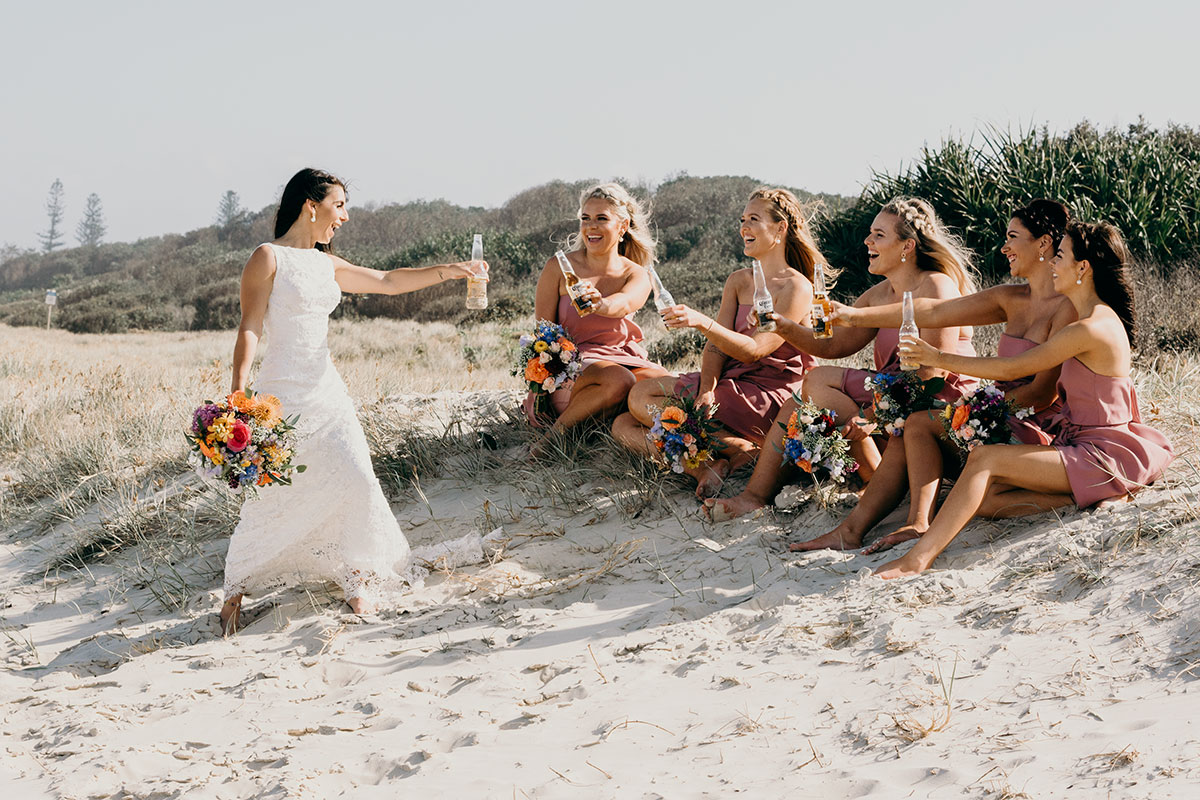 Lake Ainsworth Wedding – Images: Gary Patterson Photography
Stay
When it comes to beachfront accommodation Lennox head has all bases covered, from luxury apartments to quality camping there is something for everyone.
Self- contained apartments – If you are looking for a 'home away from home' with amazing ocean views Lennox Head is the place to be. Lennox Holiday Apartments, Lennox Beach Resort and Absolute Beach Front Apartments offer stylish, self-contained, beach front living.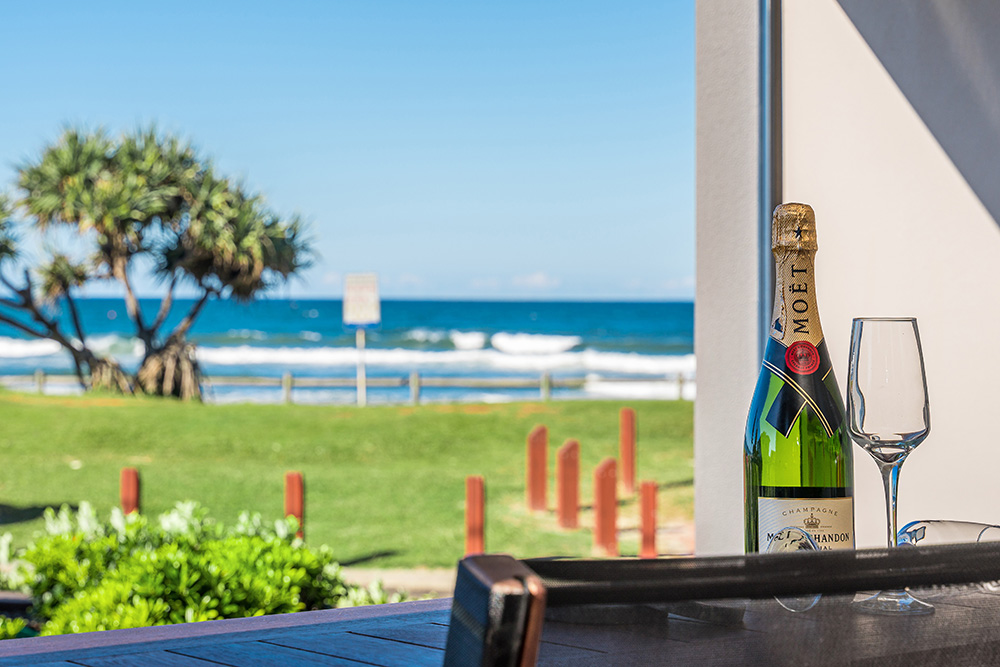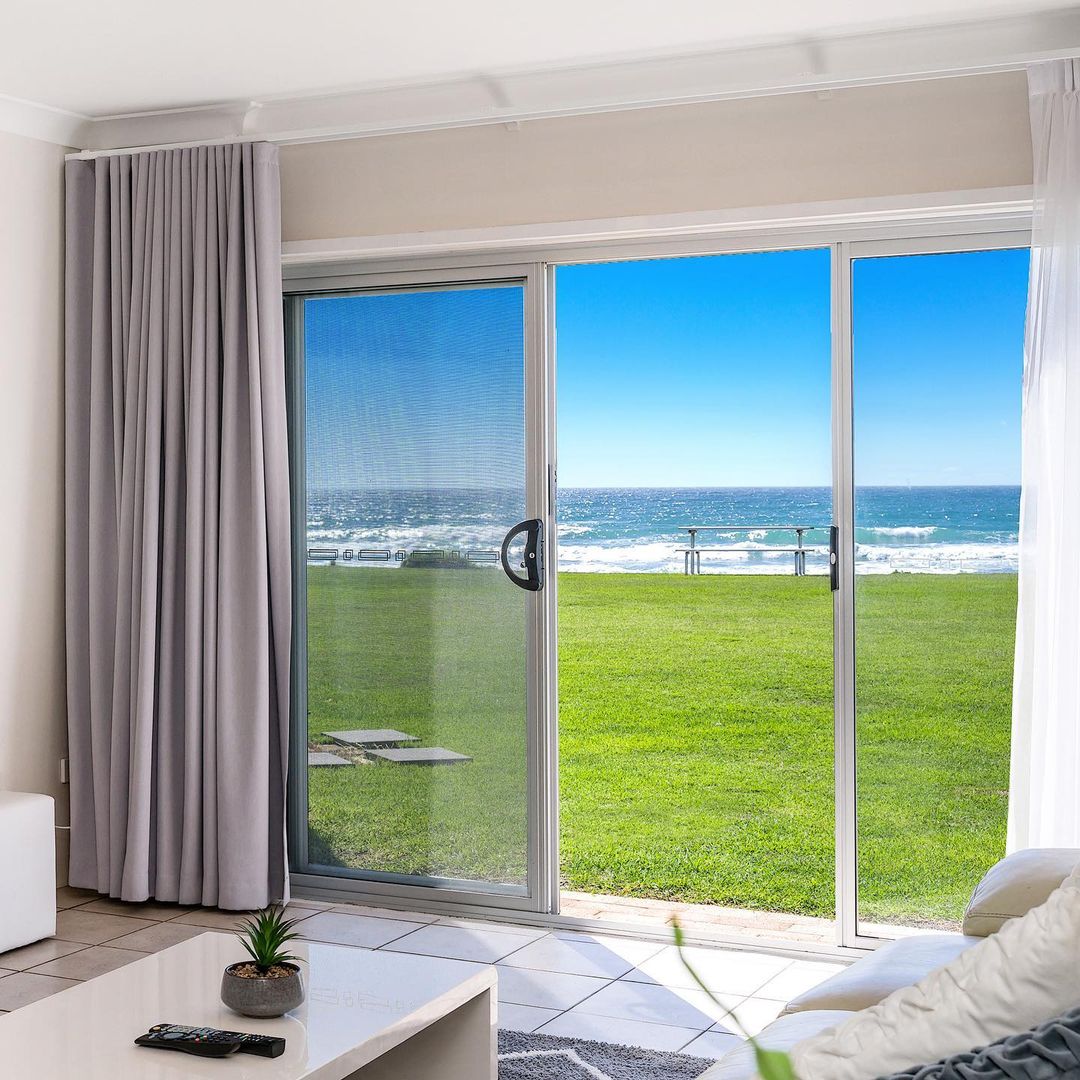 Image: Lennox Holiday Apartments Image: Instagram @absolute beachfront apartments
Reflections Holiday Park Lennox Head
When it comes to location few caravan parks have it better than the Reflections Holiday Park on Lake Ainsworth. You really have it all here, with the beach across the road, the beautiful Lake Ainsworth right next door and an easy walk to all the cafes and shops on the main street.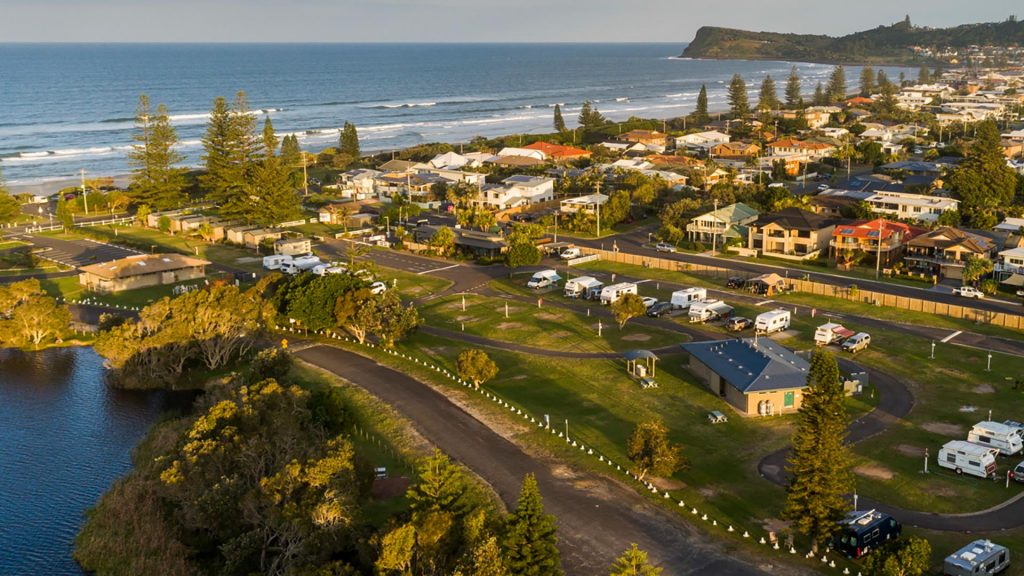 Reflections Holiday Park Lennox Lead – Image Byron and Beyond
Hens, Bucks and activities for the newlyweds
The Ballina Coast and Hinterland has no shortage of amazing experiences you can enjoy while here. Whether you are looking for something fun to add to your Hens and Bucks parties or a romantic experience to enjoy just the two of you there are plenty of options.
Full guided brewery tours uncovering the best beer and spirits the Northern Rivers has to offer.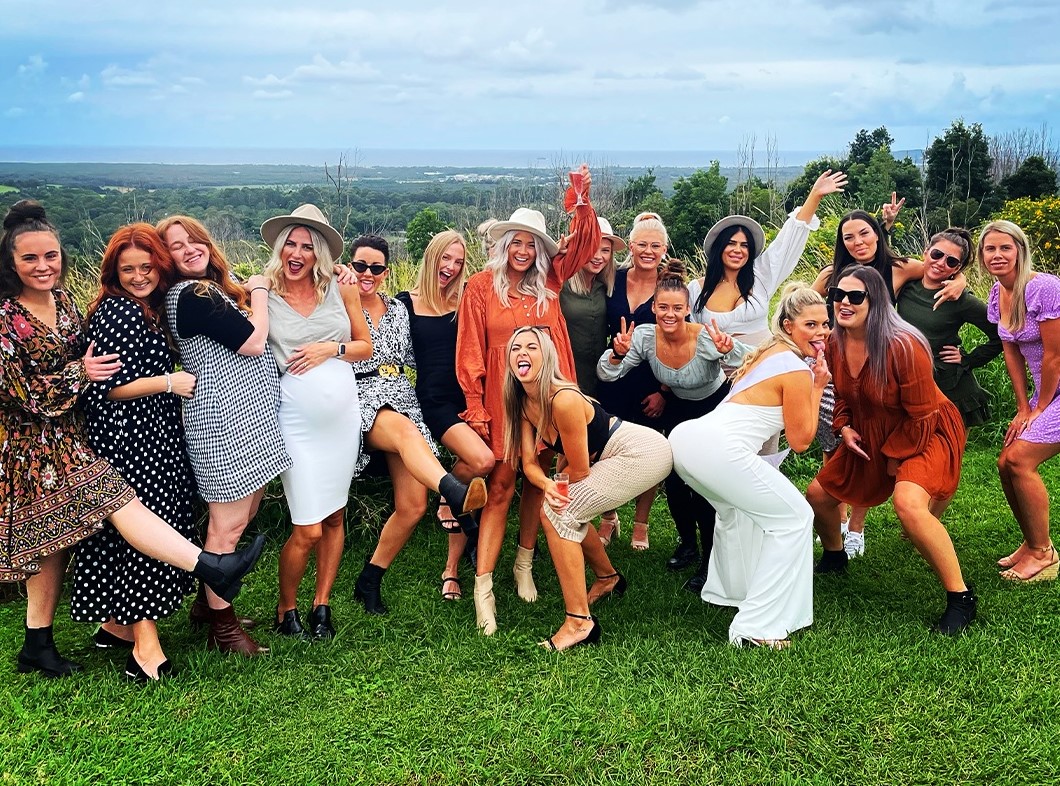 Offering the ultimate ocean experience, Out of the Blue Adventures will get you up close and personal with some of the oceans most magnificent creatures. The whale watching tours are truly something special and a must do while in the area.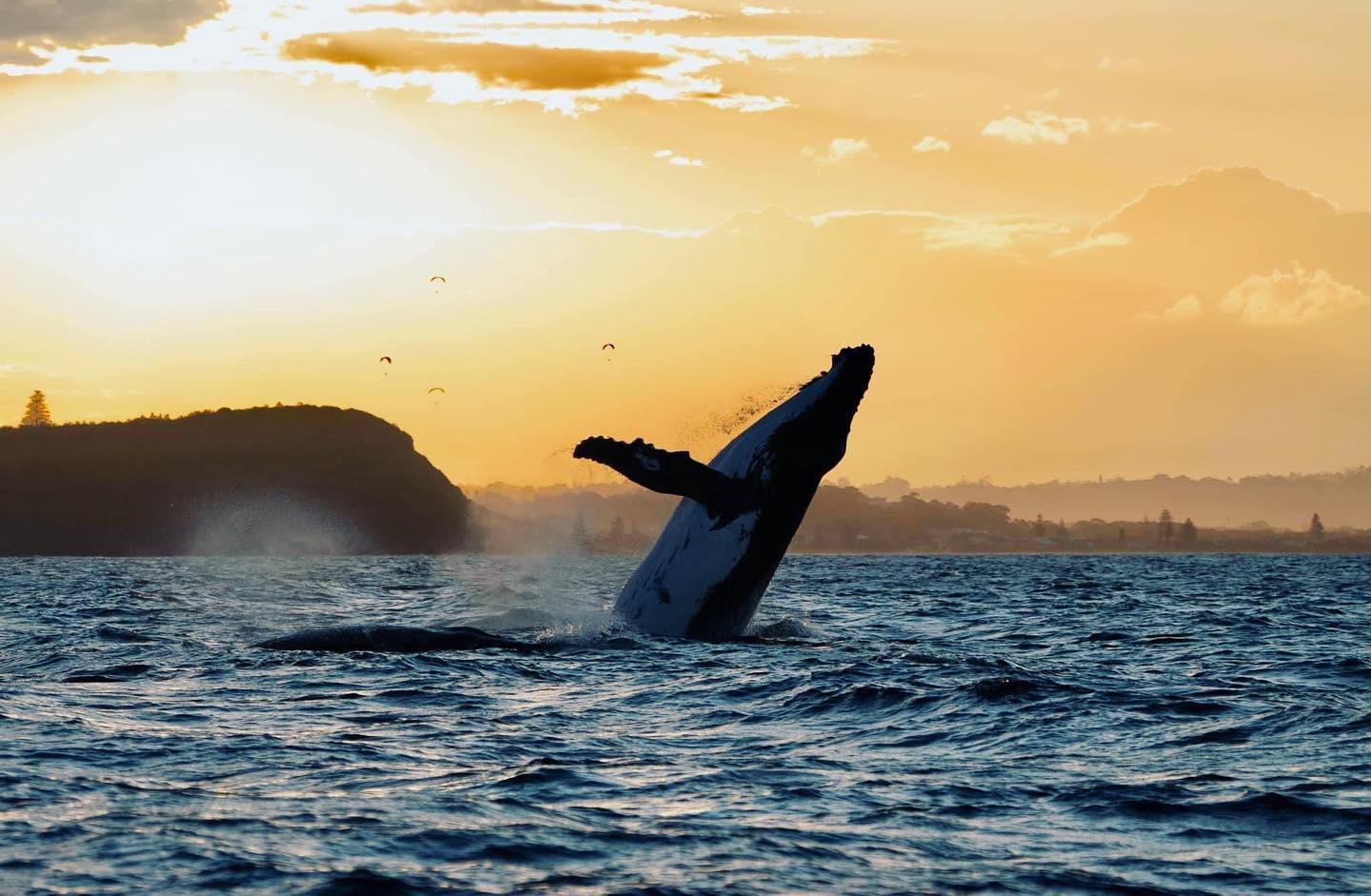 Clay Workshop with Brooke Clunie
Get in touch with your creative side and take part in a clay workshop with Brooke Clunie. You will have the chance to create two pieces that will be fired and glazed. These fun workshops are a popular Hens party activity.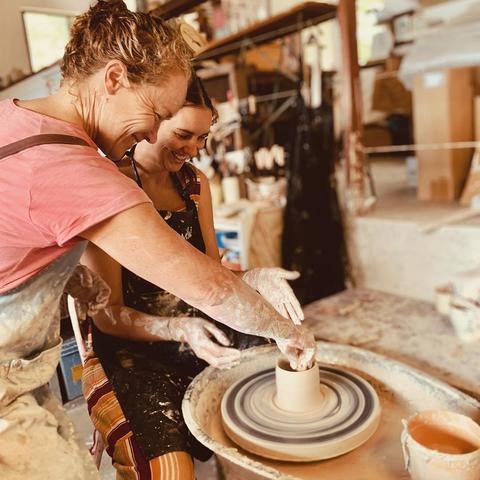 Balloon Aloft's sunrise flight boast magnificent views of the ocean, hinterland and vast scenery around the famed counterculture meccas of Bangalow, Mullumbimby, Nimbin & Lismore. This amazing experience is topped off with a delicious breakfast at the Three Blue Ducks Restaurant at the Farm Byron Bay.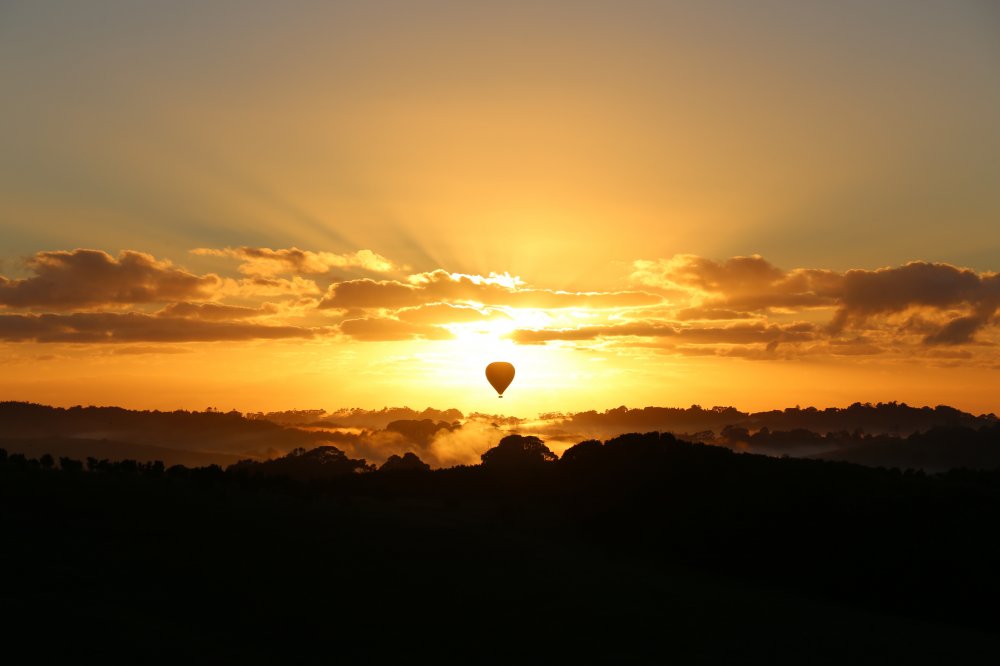 + So much more! To see what else is on offer view our list of tours and experiences here.
Suppliers
The access to high quality suppliers from across the Northern Rivers means that services can be tailored to suit any need. The Ballina region is home to many hire companies, AV specialists, transport services and of-course world class caters. The region offers a distinctive balance between high-quality services in a relaxed and refreshing location. Ballina and Northern Rivers region is well known for its first class local food and produce, diverse cultural influences and artistic flare; attributes that make our suppliers uniquely special and appealing.
Find a list of local caters here.
Explore services such as AV specialists, hire companies and musicans/DJs here.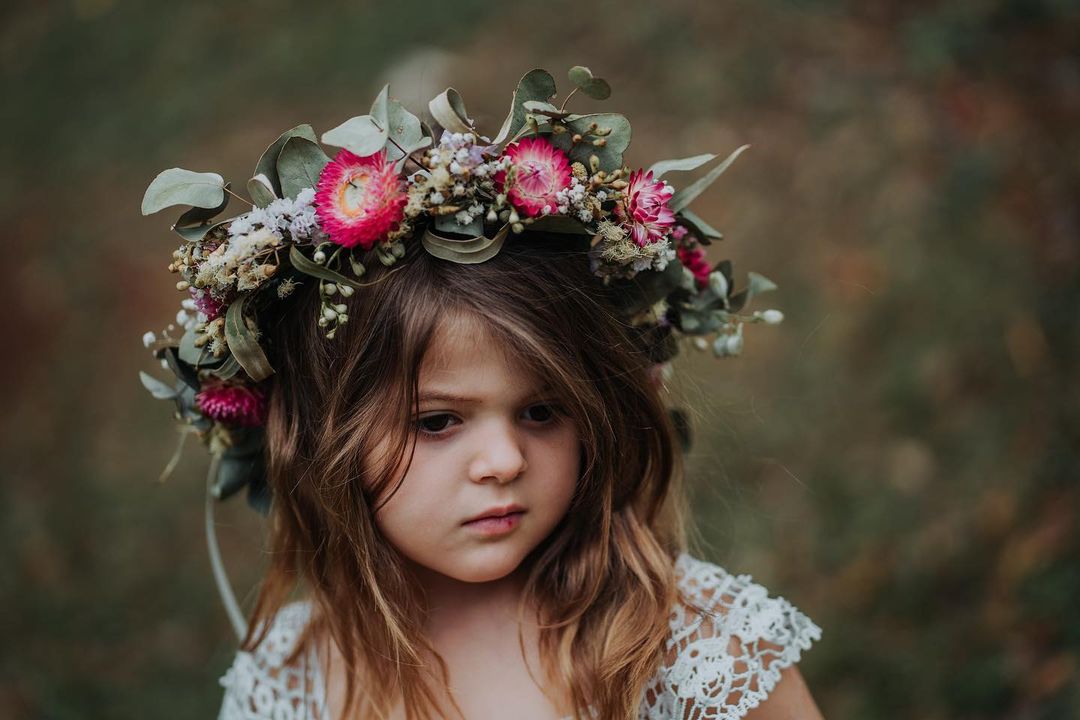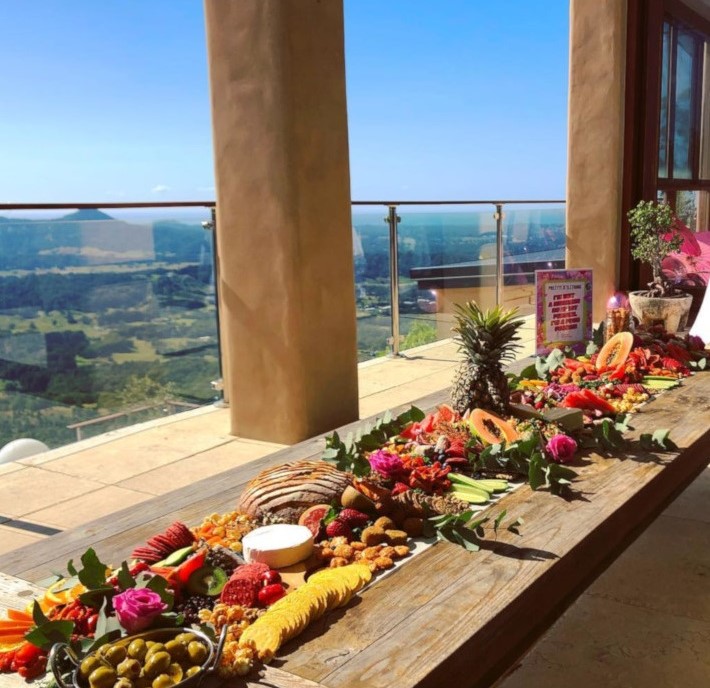 Instagram @flowerheadbyronbay Instagram: @allthatplatters
If you're ready to plan the wedding of your dreams, the Ballina Visitor Information Centre is happy to help. Contact us on 1800 777 666.
If you want to have your ceremony on public land you can find the easy application form here.