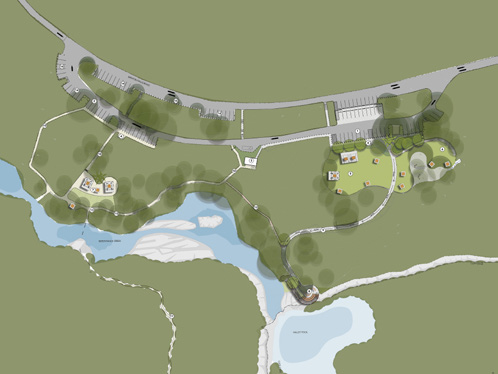 Work will soon commence on a major upgrade to the Minyon Falls visitor precinct as part of the largest ever investment into National Park visitor infrastructure.
This is the first stage of the $7.35 million Tweed Byron Hinterland Trails Project, which will deliver high quality nature-based visitor experiences to boost the NSW visitor economy and community wellbeing.
The revised master plan will better complement the site's natural and cultural values and provide opportunities for a more diverse range of visitors to enjoy our spectacular national parks.
The Minyon Falls visitor precinct, and Minyon Falls Road to Rummery Park campground, will be closed from Monday 2 November to Friday 18 December 2020.
Please advise your visitors to check the national parks website before heading out.
What attractions will be closed for the improvement works?
Minyon Falls Drive will be closed at Minyon Grass picnic area, resulting in closure of the following attractions for the full seven week construction period:
• Minyon Falls lookout and picnic area
• Minyon Grass picnic area
• Minyon Falls walking track
• Rummery Park campground
• Boggy Creek walk
What is remaining open?
Walkers, bike riders and horse riders can still access the Telephone Road trailer carpark and multi-use trails via Nightcap Range Road.
There will be no access to Rummery Park or Minyon Falls from this direction (via Nightcap Range Road or Quandong Trail).
Alternative visitor experiences during the closure include nearby Protestors Falls at Terania Creek and the spectacular Border Ranges National Park. Check out the Rainforest hoppin' on the Far North Coast blog for options at blog.nationalparks.nsw.gov.au.
Or visit the national parks webpage to discover more at www.nationalparks.nsw.gov.au.
Visitors are advised to check nationalparks.nsw.gov.au/alerts before travel.
Source: National Parks and Wildlife Service