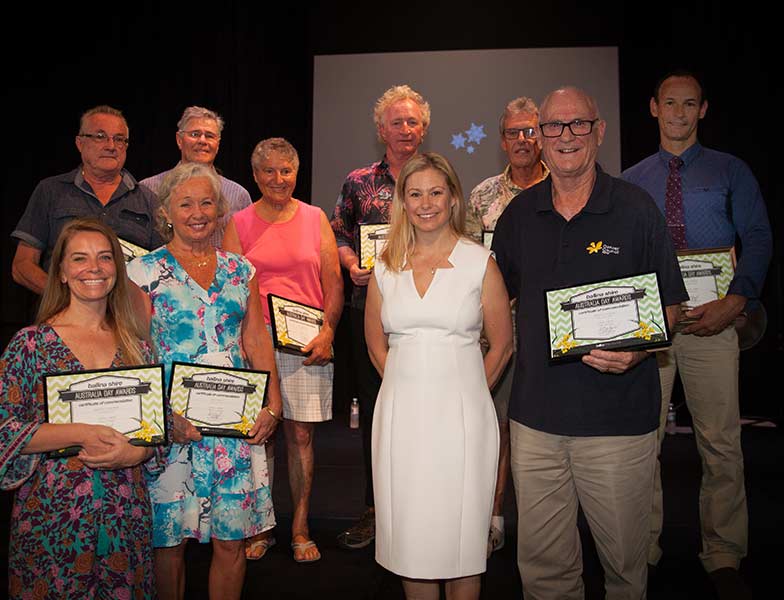 The 2017 Ballina Shire Australia Day Awards were announced at the official celebrations held in Lennox Head on Thursday 26 January 2017.
Forty-four nominations were received across the categories of Sports, Arts Cultural, Young Citizen, Senior Citizen, Community Event and Local Hero.
The Awards program celebrates the achievements and contributions that our unsung heroes make to our community.
Mayor David Wright with special guest, and former Winter Olympic Gold Medallist and inspiring guest speaker, Alisa Camplin presented the awards to the all the nominees, category winners and the overall 2017 Ballina Shire Citizen of the Year.
CITIZEN OF THE YEAR – Doug Stinson is a community all-rounder and hasn't sat still since he retired to Ballina Shire over 15-years ago. Aside from his extensive community involvement, Doug's nomination includes his involvement with the Cancer Council NSW's Relay for Life. Aside from establishing the first Relay in Ballina and attending every year since 2003, Doug was also on the original NSW Relay For Life Taskforce Committee. He has also been involved with numerous community groups including the Lions Club of Lennox Head, Lennox Head Surf Club, has been President of Alstonville Tennis Club, Alstonville Soccer Club and the Ballina District Community Services Association. Besides his formal commitments to these and other organisations he is described as a genuinely helpful person and is always willing to "Lend an Ear" and give useful advice as a friend.
COMMUNITY EVENT OF THE YEAR - Tintenbar Up Front Music Nights commenced in 2012 out of a need to allow musicians to perform outside a pub or club environment as the premise was bringing people together who love to perform in a supportive and fun environment. The event supports local charities through raffles and ticket sales. The event is not sponsored in any way and has now raised $28,000 to support charities.
Other nominees for the Community Event of the Year were: Ballina Prawn Festival 2016, Ballina High School Farewell Weekend and Newcastle Permanent's Cinema Under the Stars.
ARTS CULTURAL AWARD - Kim Michelle Toft is a talented silk artist who has an outstanding gallery under the Ramada in Ballina called "Seasilks Gallery". She has also written, illustrated and self-published nine beautiful children's books which all contain important environmental messages. Kim won a wealth of children's literacy awards and environmental awards and is a valued and respected public speaker and an incredible ambassador for arts and culture in our shire. Visitors and locals can book a silk painting workshop with Kim Toft through the discoverballina.com website.
The other nominee for the Arts Cultural Award was: Di Bell.
SPORTSPERSON OF THE YEAR – Shirley O'Brien has been coaching netball for over 50-years and was instrumental in the formation of netball in Ballina back in the early 1970s when she and a handful of other locals first began the netball competition at Wigmore Park with just a few teams. More than 40-years later, Ballina Netball is one of the strongest associations on the North Coast and over the years Shirley has coached hundreds of girls and has had many successes, including some who have gone on to play in the national league and others who have become coaches themselves.
SPORTSPERSON OF THE YEAR – Russell Priddle has held a multitude of roles with the Alstonville Soccer Club including junior registrar, coach, coordinator, groundsman, gear steward, go to man, event organiser and the list goes on. He remains enthusiastic about junior soccer even though his children are now middle aged adults and long left the junior ranks. He has been described as the backbone of the Alstonville Soccer fraternity for decades.
Other nominees for the Sports Award were: Maddyson Lloyd, Eleka Moore and Lilly Hogbin.
LOCAL HERO OF THE YEAR - Kirk Trease was involved in two lifesaving water rescues. The first was in May 2015 when he and another two gentlemen risked their own lives to rescue a father and son off South Wall Ballina. They managed to save the life of the father. The very next day during the flooding on Uralba Rd, Kirk rescued a woman from a sinking vehicle. His acts of bravery saved two lives.
Other nominees for the Local Hero of the Year were: Nicole Duverge, Fay Morris, Robert Wells, Sue Kelly, John Larsson, Horace Bevan, Nadia Elliot-Burgess, Don Munro, Doug Stinson and Jeff Doyle.
YOUNG CITIZEN OF THE YEAR -Emily Somerville's commitment to the community is her greatest asset. She is an active member of the Ballina Youth Council, Ballina Junior Chamber of Commerce, School Captain of Southern Cross K-12, Leo Club member, SES and the LSTT Band. She has already received the Lions Citizenship Award. Despite her age Emily has dedicated many volunteer hours to our local community.
The other nominee for the Young Citizen Award was: Di Bell and Tamika Smith.
SENIOR CITIZEN OF THE YEAR - Beatrice Gray is committed to helping those less fortunate including the homeless, disadvantaged, disabled and youth. Beatrice's voluntary work is extensive and includes Riding for the Disabled, Alstonville Agricultural Society Committee, Tintenbar Red Cross and the Ballina Hot Meal Centre.
Other nominees for the Senior Citizen Award were: Peter Richardson, Marie Caldwell, Audrey Doman, John Maloney, Fran Byrne, Meg Gordon, Maureen Flanagan, Barbara Swain, Norman Lannoy, Sue Parker, Barry Curtis, Heather Cleverley, Mary Jack, Jenny Potts, Warren Barnes and Yvonne Scarrabelotti.
NINETEEN NEW AUSTRALIA CITIZENS IN BALLINA SHIRE
Ballina Shire also welcomed nineteen new Australia Citizens, who pledged their loyalty to Australia and its people. We warmly welcome our new residents from Brazil, Austria, India, UK, USA, Cambodia, South Africa and Sweden.