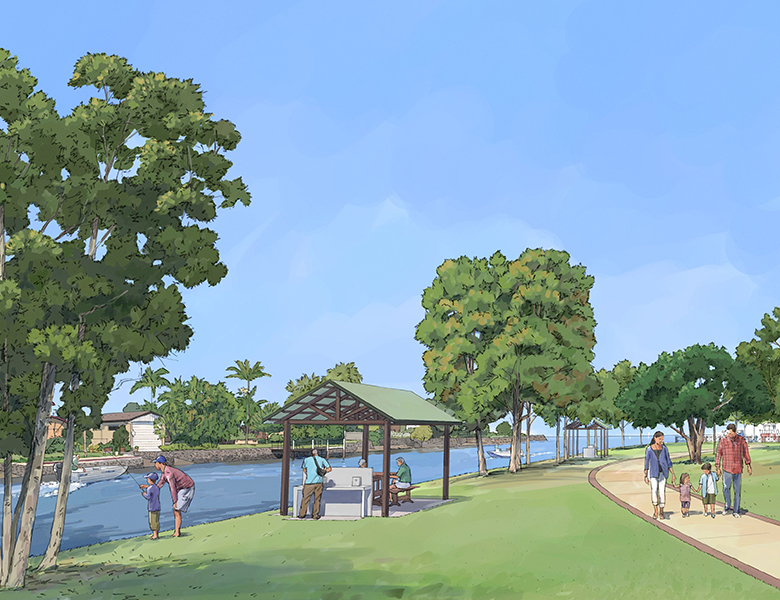 Ballina Shire Council has prepared the draft Ballina Marina Master Plan depicting a proposal to transform the West Ballina Trawler Harbour area into a multi-functional marina and public precinct over the next ten to 20 years and is now seeking your feedback.
The draft master plan envisages a marine precinct comprised of a greater number and variety of boat berths, an enhanced public domain including a marina esplanade, opportunities for commercial enterprise and new residential living opportunities. The plan foresees a vibrant mix of boats, boating services, restaurants, open space and most importantly people.
"The Ballina community has long had a keen interest in enhanced marine infrastructure in Ballina. This project represents a significant opportunity to lay a foundation for more wonderful infrastructure that complements our beautiful river and lifestyle" Mayor David Wright said.
"The opportunities that can be realised for the Ballina Shire and Northern Rivers community from an enhanced and expanded multi-faceted marina, coupled with Ballina's emergence as a regional centre, are endless" Mayor Wright went on to say.
The master plan includes provision for 110 boat berths, waterfront public open space, a mixture of 2-3 and 4-5 storey residential buildings, shops and upgraded road access and car parking. The plan also retains the existing Fishery Creek boat ramp area as a key boat ramp in Ballina.
The project is supported by funding from Ballina Shire Council and Transport for NSW through the NSW Boating Now Program. Various State Government agencies have also provided assistance and feedback throughout the project via an agency working group.
Plans, project information and background are available on Council's website ballina.nsw.gov.au (search Ballina Marina Master Plan).
Council is seeking feedback on the draft master plan and invites submissions until 28 April 2017.
Email: This email address is being protected from spambots. You need JavaScript enabled to view it.
Write to: Ballina Marina Master Plan Ballina Shire Council PO Box 450 Ballina NSW 2478
Phone: Council's Strategic and Community Facilities Group, ph 6686 1284