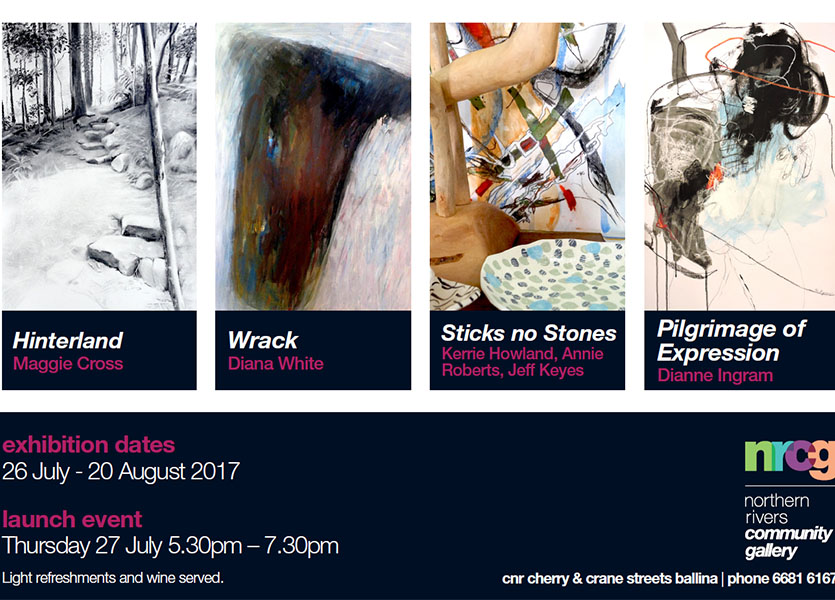 The Northern Rivers Community Gallery (NRCG) is launching four exciting new exhibitions on Thursday 27 July and is welcoming the community and visitors to join them in the gallery. We encourage you to inform your visitors about these upcoming exhibitions and support our local gallery and all the artists work on exhibition.
Exhibitions on display:
Hinterland l Maggie Cross
Wrack l Diana White
Sticks no Stones l Kerrie Howland, Annie Roberts & Jeff Keyes
Pilgrimage of Expression l Dianne Ingram
The exhibitions open on Wednesday 26 July and continue until Sunday 20 August. The official launch event is on Thursday 27 July from 5:30pm-7:30pm and all are welcome to attend.
The Northern Rivers Community Gallery is located at 44 Cherry Street, Ballina. The gallery is open Wednesday to Friday from 10am-4pm and 9:30am-2:30pm on weekends. For more information contact the gallery on (02) 6681 6167 or visit their website www.nrcgballina.com.au