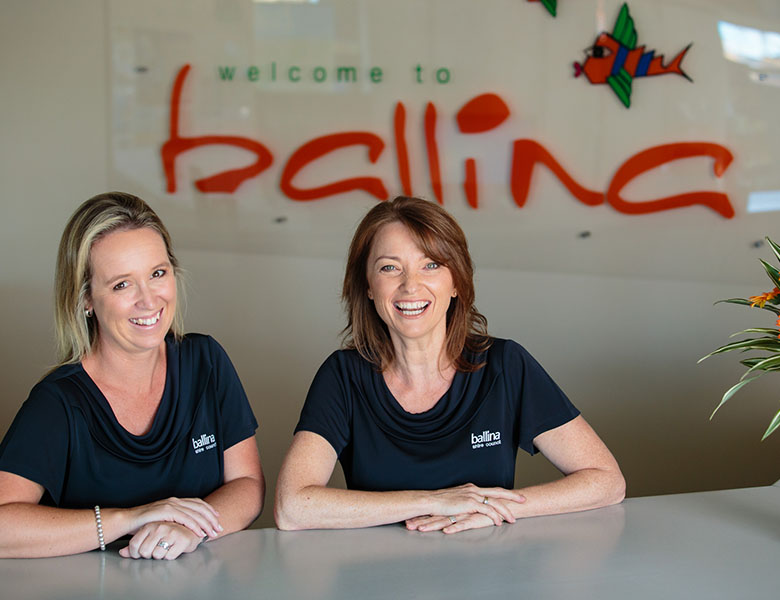 The Tourism Team within Ballina Shire Council work to promote the Ballina Coast & Hinterland and Northern Rivers as a tourism destination. Following are the services the Tourism Team provide that can benefit local business.
Ballina Visitor Information Centre
The Ballina Visitor Information Centre is an accredited centre that opens seven days a week. Our team of Visitor Services Officers are on hand to provide friendly and knowledgeable face to face visitor services.
Ensure that you keep the visitor services team up to date by regularly communicating what's happening and changing with your local business (accommodation, attractions, tours, eateries and events), so that the team can enhance our visitors stay.
We also provide:
A booking service

to increase sales and secure customers for accommodation, tours, attractions, restaurants and experiences. This also raises awareness of your business online through our destination website discoverballina.com.au and through face to face sales at the Visitor Centre and Airport Visitor Services desk. Just signup to bookeasy to take advantage of more bookings for your business at competitive rates.


A distribution channel to connect visitors with your business. The Ballina Visitor Information Centre displays brochures for tours, activities, attractions, events, eateries, accommodation and other information required by visitors to the region. To display your brochure you must acquire the appropriate development approvals to operate your business and provide the Centre with quality produced DL brochures. This is a complimentary service for approved businesses.


FREE Event promotion SERVICES - Once you have the appropriate approvals, we can promote your event on various consumer websites that tap into over 2.4 million potential customers each month. To take advantage of free event promotion, click here and complete the details of your event. Events listed on the website will automatically be included in the 'What's On' Guide that is published at the Visitor Centre and online. Events are also advertised through a visual display board in the Centre, at the Ballina Byron Gateway Airport and through social media.


help visitors to plan their stay & stay for longer - Refer your visitors to the Ballina Visitor Information Centre and our trained staff can do all the hard work for you. If you need to provide visitor information, there are many resources on discoverballina.com. The Printable Guides cover local markets, beaches, tourist drives or what to do on a rainy day for example. These guides can be printed from the website as you require them.


School holiday activity program - Our team collates a program of local activities, events and things for the kids to do during the school holidays. We offer this service free of charge for businesses with the appropriate approvals to operate. We distribute the program to local child care centres and schools and our industry database (over 700 regional contacts). You can download the activity program from discoverballina.com. This is another way we can promote your business, workshop or event so be sure to

This email address is being protected from spambots. You need JavaScript enabled to view it.

three weeks before the holidays begin.


Social Media - We have an active presence on social media that is integrated with Discover Ballina marketing campaigns and online channels. Connect with us via ballinacoastandhinterland on Facebook, and discoverballina on Instagram.


UNIQUE gifts and souvenirs - Our gift shop at the Visitor Centre is full of local artisan gifts, Big Prawn merchandise, regional products, souvenirs and gift hampers made to order. We have exclusive specials on local experiences that can be purchased too. These include food, adventure, art, nature and pampering experiences. Gift vouchers are available.
Visitor Services at the Ballina Byron Gateway Airport
The Tourism Team manage the Volunteer Airport Ambassador Program, Welcome Desk and brochure stand in the arrivals lounge at the airport. Volunteers are recruited and trained to assist visitors with a range of enquiries including everything from where to stay, transport options, where to go and what to see & do.
A brochure stand is maintained daily by the Volunteer Ambassadors who greet direct flights from Sydney, Melbourne, Newcastle and Dubbo.
Annual passenger numbers are in excess of 533,000, so it is a great opportunity to promote your business to thousands of visitors and locals at the airport. Subscribe to this service today and promote your business for the small fee of $150 (including GST) per six month cycle.
This email address is being protected from spambots. You need JavaScript enabled to view it. to express your interest as space is in high demand.
Destination Image Library - Free Images for Experience Operators
Ballina Tourism own an image library, used to market and promote the destination. If you are looking for professional images to help showcase Ballina Coast & Hinterland in a non-commercial manner then apply for access to the library. Images can be used to bid for a conference to be held in the Ballina Shire or if your organisation is pitching to host a sporting group. You will just need to complete an image release form to make your request.
Other Digital Assets - Film Footage
The Tourism Team has produced a short motivational video that can be hyperlinked from your website, email signature and social media. This footage can also be requested from Ballina Shire Council via the image release form.
Industry Noticeboard
The Tourism Team collate industry relevant statistics, free workshops, funding opportunities and news via the Industry Noticeboard. If you are searching for data or want to keep abreast of current news, check this noticeboard regularly, you can find it in the top right hand corner of discoverballina.com
Industry News
The Tourism Team produce a weekly online newsletter to keep you informed about matters that might impact your business or customers. It includes information on tourism related issues, funding opportunities, professional development workshops and industry engagement opportunities to have your say. Keep an eye out for it in your inbox. If you are a new operator or have changed your email address, This email address is being protected from spambots. You need JavaScript enabled to view it. to signup today. It pays to be in the know!
Destination Marketing Campaigns - Pay to Play Opportunities
The Tourism Team execute destination marketing campaigns to attract more visitors from key source markets e.g. Melbourne, Sydney and South East Queensland. We work with local operators and major airline carriers, along with media buying agencies to ensure our campaigns are competitive with other tourism destinations. We tap into available Tourism Funding where possible to promote the Ballina Coast & Hinterland as a destination.
Industry/Tourism Advice
If you have a tourism related matter, require local advice or are a new operator that requires assistance, please set up a meeting by calling 1800 777 666 to schedule an appointment with a member of our team.
Be part of Ballina Tourism Marketing - Pay to Play Opportunities
VISITOR GUIDE
We coordinate the publication and distribution of the regions official Visitor Guide. This is the one guide that provides a visitor with a comprehensive guide on where to eat, drink, shop, play and stay in the various towns and villages that make up the Northern Rivers. The Visitor Guides are distributed throughout the region and also to Brisbane, Newcastle and Ballina Byron Gateway Airports; Visitor Centres throughout NSW and South East Queensland and local accommodation providers and attractions.
The guide is available to local businesses as a way of promoting the wealth of experiences on offer in the destination and can be collected from the Ballina Visitor Information Centre at 6 River Street, Ballina.
WEB BANNERS ON DISCOVER BALLINA
We have over 120,000 unique visitors to our website per annum. These visitors are looking to plan and book their stay within the Ballina Coast & Hinterland. Businesses can purchase web banners on the destination website with banner clicks directed through to your nominated website. Get in touch with a staff member for pricing and availability.
FEATURE IN A BLOG ARTICLE

The Discover Ballina Blog showcases the lifestyle experiences of our unique area to inspire visitors to plan a stay in the destination. Articles are written to be highly engaging and appealing to our target markets to entice them to explore the many experiences we have on offer. The articles are an effective promotional tool for your business to feature in. Written from a locals perspective (or a word of mouth recommendation) they are highly motivating and authentic. Blog articles are promoted through our industry website, via discoverballina ,and marketed and shared across social media channels with weblinks to your business.
ADVERTISE IN COMMUNITY CONNECT MAGAZINE
Profile your business in the tourism section of Ballina Shire Council's quarterly Community Connect magazine. This is your opportunity to sell your offering to the local community an ultimately tap into the visiting friends and family market. The Community Connect magazine is produced quarterly and is distributed to Ballina Shire residents in March, June, September and December.
This email address is being protected from spambots. You need JavaScript enabled to view it. or call on 1800 777 666 to discuss the right marketing opportunities for your business.