Bird Watching
Birdwatching is a popular activity for locals and tourists in the Ballina Shire. With a variety of surroundings including lakes, beaches, rainforests, national parks and nature reserves, the Ballina Shire has a diverse range of birdwatching hotspots.
Details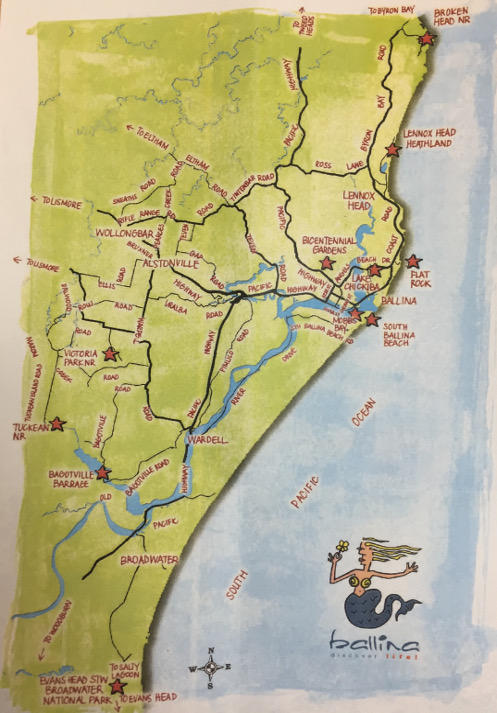 South Ballina Beach 28 52' 52" 153 34' 50"
The long open white sandy beach meets the South Ballina wall which forms a sheltered angle that is a haven for sea and shore birds, including some rarities in rough weather. Dolphins are a common sight close to shore.
Victoria Park Nature Reserve 28 54' 09" 153 24' 37"
Circular Boardwalk suitable for wheelchair, through pleasant sub-tropical rainforest.
Tuckean Nature Reserve and Canals 28 57' 10" 153 22' 02"
The vegetation is dominated by large paperbarks and swamp oaks which become inundated in wet weather. There is no access into the reserve bu the roadside viewing is excellent.
Bgaotville Barrage 28 58'45" 153 24' 19"
The Barrage is a barrier limiting mixture of salt seawater with fresh water from the Tuckean Swamp. Hectares of waterlilies ornament the scene. The birds can be seen from the roadway.
Broadwater National Park 29 05'32" 153 25' 16"
Banksia/heath community, parts of which become inundated in wet weather. Christmas bells make a good show in summer. Good birding.
Lake Chickiba 28 50' 47" 153 35' 06"
A tidal salty lake with marshy margins, surrounded by a wide mown area. Best visited during summer, one houe before high tide when a surprising variety of migratory waders leave scattered mudflats to congregate at the lake. Bush birds can be seen in the adjacent forest. Excellent notice boards illustrate and name some of the birds.
Flat Rock 28 50' 57" 153 36' 12"
The rock platform divides miles of pristine surfing beach. At low tide several hectares of flat basalt rock provide a resting place for hundreds of seabirds and migratory waders. After rough weather rarities can turn up on the rock.
Lennox Head Heathland 28 46' 23" 153 35' 39"
The specialised habitat of coastal heath provides good birding at any time, but in spring a vast carpet of wildflowers attracts great numbers of birds.
Broken Head Nature Reserve 28 42' 21" 153 36' 44"
The Nature Reserve encompasses 98 hectares of superb headlands with steep littoral rainforest slopes sweeping down to secluded beaches. Just out to sea large rocks form small islands for seabirds to roost and nest. Kiosk, shelter, toilets and barbeques are available.
Bicentennial Gardens 28 50' 57" 153 32' 55"
A circular lagoon surrounds a small tree-covered island. Behind and on both sides of the lagoon is a wide mown area with attractive shade trees. Behind this again are tracks leading in and out of the paperbark forest. Shelter, water and toilets are available.
Mobbs Bay and Richmond River Nature Reserve 28 52' 50" 153 34' 10"
Near the mouth of the Richmodn River, Mobbs Bay is a deep indentation in the south bank which is now protected by the road. This is a good spot for waders feeding at low tide and roosting on high tide. The Osprey nest on the provided pole is used reguarly by the resident pair. The Reserve occupies land on both sides of the road between Mobbs Bay and South Ballina beach. Tall timber and roadside bushes provide habitat for a wide variety of birds. Dugong and Loggerhead turtles have been sighted in the river.