Events Calendar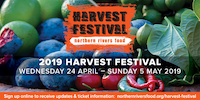 2019 Harvest Festival Wednesday 24 April
Northern Rivers Food 2019 Harvest Festival
Thursday, 25 April 2019
Time:
Category:
- Sunday 5 May The Northern Rivers Food Harvest Festival is all about connecting people with real food on real farms.
The Festival provides locals and visitors with opportunities to visit local food producers, hear how their food is grown & sample fresh and beautifully prepared food prepared by renowned local chefs.
The 2019 Harvest Festival has expanded this year to twelve days featuring:
Wednesday 24 April 2019 - Harvest opening Event at Husk Distillers, North Tumbulgum
Saturday 27 April 2019 - Autumn Harvest Fair, North Byron Parklands
Saturday 4 & Sunday 5 May 2019 - Harvest Food Trail - across the whole Northern Rivers from Grafton to Tweed
Plus a Farms & Foodies bus tour, a breweries & distilleries bus tour, special harvest menus, pop-up dinners, workshops and classes.