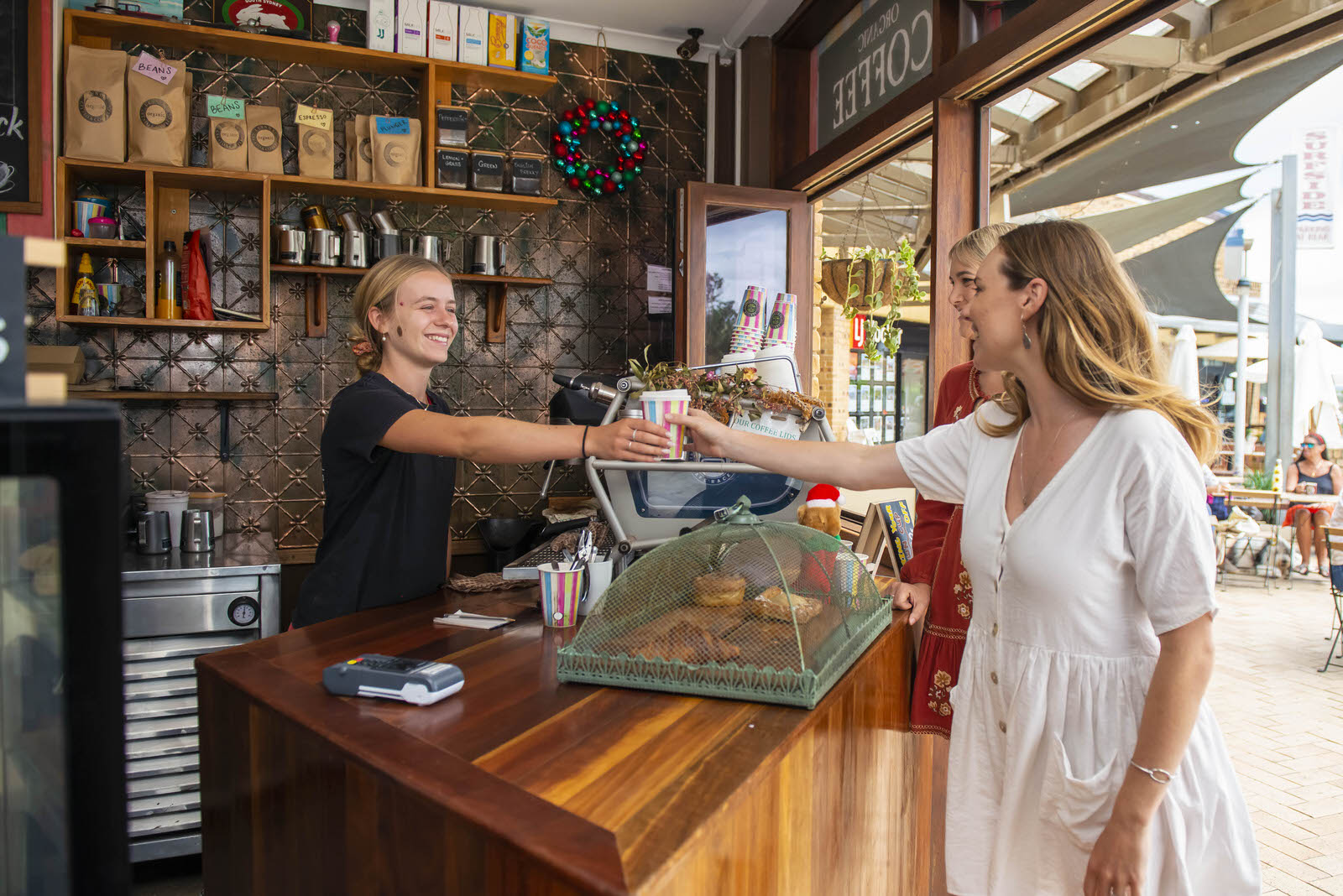 This campaign aims to celebrate a rejuvenated Lennox Head Village Centre and provide a much-needed boost to local businesses after a challenging period of disruptions and closures. Here's your chance to attract foot traffic, and contribute to the revival of Lennox Village's vibrant shopping scene.
Campaign Highlights
A chance for your customers to win the $3,000 Golden Ticket to spend at five of their favorite participating businesses.
Showcase your business as part of a collective effort to create a thriving shopping destination.
Benefit from a comprehensive promotional toolkit including materials like DL promo flyers, participating business posters, and social media assets.
Competition Details
The competition is open to all Australian residents over 18 years of age.
Shoppers can enter as many times as they like by making a minimum of three separate purchases of $20 or more from participating Lennox Village businesses.
Shoppers can enter online at discoverballina.com.au or submit a hardcopy entry at the Lennox Head Cultural Centre (Cnr Mackney and Park Lanes).
The winner will be drawn electronically and announced by the Mayor in the Lennox CBD on 1 December 2023 ready to invest their prize back into Lennox just before Christmas.
The $3,000 Golden Ticket winner will decide where they want to spend their prize. They can choose a maximum of five participating retailers, with a minimum spend of $100 at each of those outlets.
Business Participation
The competition is open to all Lennox Village businesses within the categories of retail, café/restaurant, personal services, and accommodation. There's no financial outlay for businesses to participate. If your business is chosen by the golden ticket winner, you will be requested to issue a voucher to the specified amount, valid for three years and invoice Ballina Shire Council.
Promoting Local, Drawing Visitors
This campaign is aimed at revitalising the Lennox Village, boosting footfall, and drawing shoppers back to a beautiful precinct. We want to highlight what makes Lennox Village truly special, from its diverse offerings to its warm coastal vibe. The inclusion of accommodation providers also opens up the possibility for visitors to experience the unique charm of Lennox Head, and if they win they will return to inject new money into Lennox Head.
Competition Launch
The competition's Terms and Conditions are available at discoverballina.com.au. The competition launches on Friday 22 September 2023, following the planned reopening of Ballina Street and Park Lane. By participating, you'll help shape a more vibrant and enticing Lennox Village, showcasing its unique homeware, clothing, surf wear, services, diverse dining experiences, and accommodation options. We can't wait to see your business thrive within the Lennox Head Golden Ticket campaign. Thank you for your support in making Lennox Village the place to shop, win, and experience!
How to Register
1. Click on the registration link provided below.
2. Complete the simple registration form, ensuring all details are accurate.
3. Choose your preferred format for the promotional toolkit (electronic or hardcopy).
4. Get ready to proudly display the provided poster in your store, encouraging shoppers to participate.